Editorial
PRESIDENT'S NEW MEASURES IS CRUCIAL IN WINNING THE WAR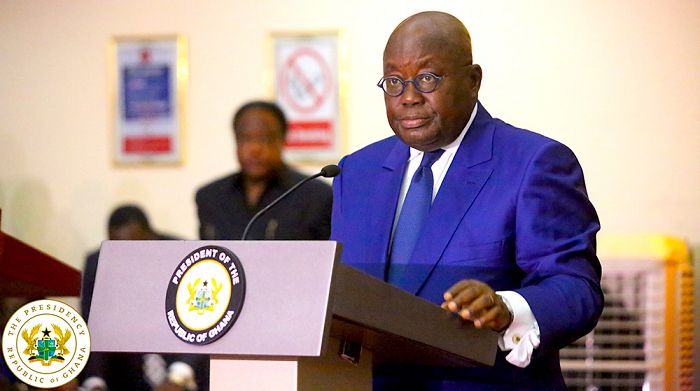 The President, His Excellency Nana Addo Dankwa Akufo-Addo, last Sunday announced stringent measures aimed at ruthlessly fighting the COVID-19 pandemic
According to the President, the announcement was based on available data and consultations with the experts who had signaled that we need to get tough in fighting the pandemic.
Containment
The President is convinced that those measures were aimed at containing the spread of the virus by respecting the protocols Government had put in place. And he was hopeful that "we would begin to see an improvement in our case count, as a result."
In light of the frightening figures, therefore, some sense of urgency is needed to stabilize the situation.
Collective effort
As a nation and as a people, and given, therefore, the dire situation we find ourselves in, it becomes a collective duty to fight united, in containing the virus. That is why the imposition of the new measures must be embraced by all in winning the war which we have already proved to the world under the leadership of the President that we can.
Fortunately, the new measures are not alien to our circumstances; we have tried it before and it worked; which is why repeating it should not be a headache, but excitement because of the results which we anticipate will help save lives and livelihoods.
As we are becoming aware, because the spread of the virus mostly occurs in indoor, confined spaces with poor ventilation, where people are talking, singing, or shouting without their masks, including funerals, pubs, churches, and mosques, a ban on activities in such environments would be imperative.
No options
Again, since previous restrictions on our daily routines helped in reducing the prevalence of the pandemic in the country, and Government has been left with no option but to re-introduce some of these restrictions in order to help save the situation, all we need to do as citizens is fall in step, without fail, the President's directives.
As he indicated, these measures may be unpleasant, but, likely to yield the required results over a period, for our collective good.
That is why we appeal to commercial bus drivers and passenger; churches and mosques; operators of pubs and traditional communities which enjoy honouring the dead with crowds and noise and fanfare.
Markets and streets
More importantly, that is why we urge our market folk to bury their unscientific perceptions and hollow faith and do what is a better form of religious duty by obeying protocols that have bearing on our respective religious faiths.
Particularly in terms of focus on our markets and streets spaces, we would urge the Municipal, Metropolitan, and District Chief Executives to crack the whip as landlords and local government agents in enforcing compliance.
Traders and traders associations, drivers and transport unions, and hawkers owe the public a duty to get back to enforce, in winning the war again.
It is in this regard that we join the President in asking all workplaces, public and private, to put in place a shift-system for workers, in addition to the use of virtual platforms for business or work, while conferences and workshops also oblige.
That is the only way to save ourselves and our livelihoods.
** The Thunder Gh News | News In Flash! here
Follow us on Twitter: @ThunderGhNews
#TheThunderGhNews