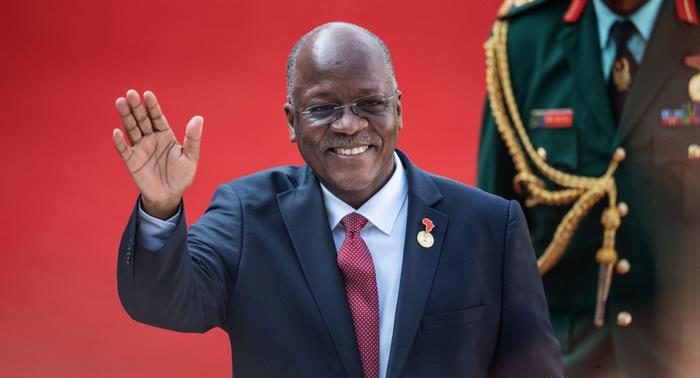 Magufuli had not been seen in public for more than two weeks, and rumours had been circulating about his health
Tanzania's president, John Pombe Magufuli, has died of heart complications, Vice-President Samia Suluhu Hassan announced in a televised address on Wednesday (17 March 2021).
Hassan said Magufuli was hospitalised on 6 March 2021 at the Jakaya Kikwete Cardiac Institute and died at Mzena State Hospital in Dar es Salaam on Wednesday.
"It is with deep regret that I inform you that today … we lost our brave leader, the president of the Republic of Tanzania, John Pombe Magufuli," Hassan said.
She said there would be 14 days of national mourning and that flags would fly at half mast.
Farewell to The Bulldozer
Magufuli had not been seen in public since 24 February and rumours had been circulating about his health. East African press and social media have been humming for the past fortnight with claims that the president had succumbed to COVID-19.
Some reports said he was in a coma. There were wild allegations that he had been airlifted into Kenya for emergency medical treatment, and some even claimed that Magufuli had died early this month.
The president resisted instituting formal restrictions and public health measures against COVID-19 until late last month.
Magufuli was born on 29 October 1959 in Chato, in north-western Tanzania. He has been in office since 2015 and was Tanzania's fifth president.
A chemist and mathematician by training, he rose through the ranks, serving as a deputy minister and minister in previous governments.
Known as The Bulldozer because of his hands-on, no-nonsense approach to governance, he captured the public imagination in his first years in office by taking part directly in public sanitation campaigns and clearing tens of thousands of ghost workers from the public payroll.
He also won praise for his "resource nationalism" approach to use of Tanzania's assets, seeking to impose higher royalties on foreign companies looking to exploit the country's rich deposits of gold, diamonds, uranium, tanzanite, uranium and copper.
He also expanded state infrastructure, extending the national road network and building a railway link to neighbours in the East African sub-region.
His public image lately has been more chequered, with accusations of censorship, widespread state intimidation of political opponents and an economy reeling from plummeting prices for some of its major exports even before the global COVID crisis.
In 2020 he controversially won a second term in office in a presidential election that was widely criticised as rigged.
Magufuli's presidency was due to run until 2025.