POLITICS
Power crisis would have been worse …Energy Minister explains gov'ts solutions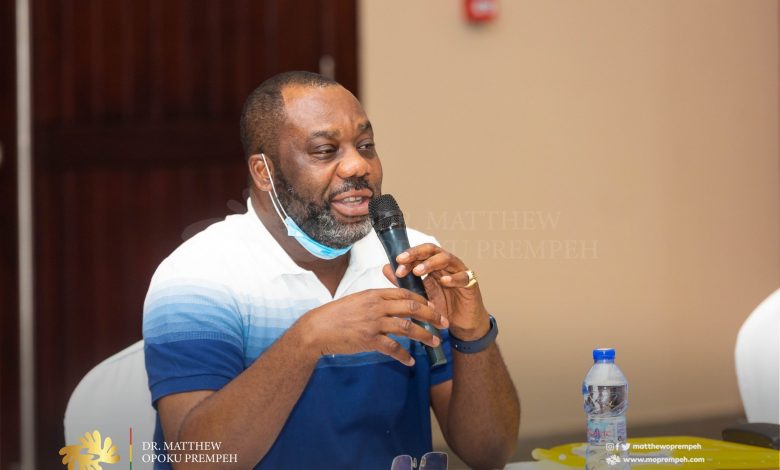 The Minister responsible for Energy, Dr. Matthew Opoku Prempeh, has said but  for the prudent, pragmatic and innovative lasting-solutions the Nana Akufo-Addo led Government came up with in tacking the country's electricity challenges, the situation would have been far worse and cost the country a lot of money that is now been saved.
Dr.  Opoku Prempeh, mostly known as Napo, explained that the intermittent power outages in parts of the country is due to a much needed system upgrade to facilitate and an enhanced transmission system and this would be over in no time.
He said the Akufo-Addo Government inherited a messed-up electricity generation and supply arrangement that was rapidly accumulating debt for the country.
Napo explained that under the former government led by the National Democratic Congress (NDC), the electricity generation and supply system was known as 'Take or Pay' and under this arrangement, private companies had been tasked to generate electricity that the government paid for whether or not the generated electricity was consumed.
In explaining what the current Government's solution to the challenge has been so far,  has Dr. Opoku Prempeh said when the Akufo-Addo government took over, the first thing it did was to look for money as an urgent priority to pay the accumulating debt.
Napo said "the second step that government took was that the Power Purchase Agreements that had been signed were too many and we had more generators than we consumed. Even as at now we have an installed capacity of 5,100 and our maximum peak load hovered  around 3,100 to 3,200, so there is built in capacity and there is resilience there.
"What was happening was that whether we took the power and consumed or not, we paid the company for it and that was what was rapidly accumulating debts. So government looked at the PPAs that had been signed and said 'hold on. We do not have money now. For some of you, can you defer your start date to a later date'.
"So we have a few IPPs between six and eight that were deferred. If those IPPs or generators had also come on board, it would have even made our debt situation worse. So there was a potential to have a worse situation than what we are in now. But government deferred that through negotiations", Dr. Opoku Prempeh
Napo noted further that "for those power producers that were also producing,  who were giving us very high rates because of the fuel that we were using and because we were desperate so they charged us high, government has been renegotiating with them in a bid to bring it down. We have achieved one and that is we have converted almost all our generators to gas which brought substantial savings and we want to even go further. "
NDC  Messed Up After Kufuor
The Minister responsible for Energy, Dr. Opoku Prempeh  pointed out the how the New Patriotic Party (NPP) government under John Kufuor  smartly handled  the power crisis challenge by then and how the smooth arrangement was messed by after the National Democratic Congress (NDC) government took over.
He said: "Under President Kufuor, we had light outs or 'dumsor'. The solution the government at that time did was to buy the generators, buy the fuel and deal with the problem. So there was no cost buildup for either ECG or GRA or anybody because government bought the generating plants, government bought the fuel on emergency bases to light the country or to power the country.
"In the 2012/2016 dumsor, what government decided to do, because it did not have money anyway, was to sign Power Purchase Agreements with various entities that could come and put up generating plants and give us electricity.
"The people, realizing that we were in desperate needs, gave us draconian terms that we call Take or Pay.  So if he is generating 400 megawatts, whether you buy it or you don't, you have to pay. As far as he has installed in your country, every time, you owe him 400 megawatts equivalent of electricity.
"What was inimical was that they used government guarantees so if you say you won't pay, they would call on your guarantee.  And that has been the albatross on our necks for the last eight years; a government that was just desperate for money, a government that had run to IMF because it was bankrupt. This same government was facing mounting debts and bills as far as generating capacity was concerned.
"So they could not have solved the 'dumsor' problem because there was no money anywhere and even workers were not being allowed to be employed. Teachers and nurses and everybody because that was part of the IMF conditions.
"So we came in 2017 and quickly exited the IMF; we used Central Government money because your priority is what you decide as a government. We use Central Government money in paying down the rapidly accumulating debt as of the result of the take or pay.
"Once we started paying or even show the goodwill of paying, the generators continued to generate and then government continued to pay as and when it made some money available", Napo added.