POLITICS
Peter Amewu registers for 8th Parliament amid injunction against swearing-in as Hohoe MP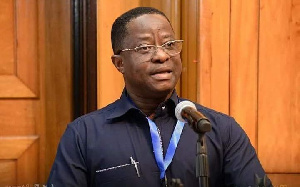 The Hohoe MP-elect, Peter Amewu, has registered for the next Parliament amid the interim injunction restraining the Electoral Commission (EC) from gazetting him as the winner of the Hohoe parliamentary election.
Parliament is currently registering members-elect of the 8th Parliament of the 4th Republic.
As the second day of the registration was ongoing, the Supreme Court had begun hearing the challenge to the injunction won by eligible voters within areas in the newly created Guan district, namely Santrokofi, Akpafu, Likpe, and Lolobi (SALL).
They argued that they were not given the opportunity to vote in parliamentary elections and were thus denied the right to vote as guaranteed by the constitution.
This was a breach of the fundamental human rights, administrative justice and the right to equality before the law, they insisted.
But the State challenged the order of the Ho High Court granting the injunction against the swearing-in saying that the court did not have the capacity to hear the case.
The State also argued that Mr. Amewu's victory in the Hohoe parliamentary election was gazetted a day before the residents of SALL went to the high court to place the injunction on the gazetting.
The Supreme Court has set tomorrow [Tuesday] to rule on the case.
During the hearing earlier on Monday, the Supreme Court dismissed an objection raised by the lawyer for residents of SALL, Tsatsu Tsikata asking one of the empanelled judges, Justice Clemence Jackson Honyenuga to recuse himself.
Mr. Tsikata said there was a likelihood of bias on the part of Justice Honyenuga due to his long-standing relationship with Mr. Amewu.
But the Justices in their ruling said there is no substance in the allegation of bias.