NEWS
People who insult Akufo-Addo over economic hardship are uncivilised and witches – Okyehene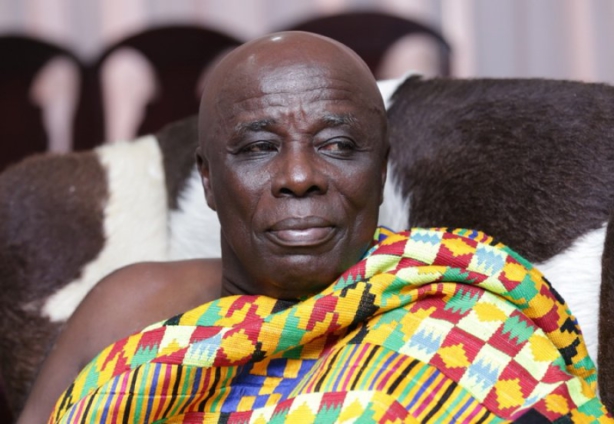 The Paramount Chief of Akyem Abuakawa Traditional Area says Ghanaians who insult President Akufo-Addo due to the current economic hardship are uncivilised and witches.
Osagyefo Amoatia Ofori Panin wondered why some individuals have failed to appreciate the president for "his efforts" and contributions towards the country's development.
According to him, those who have launched attacks, insults and booing campaigns on Mr Akufo-Addo are children of villagers.
"We should stop, we should be appreciative, we should appreciate him for his efforts; we should protect him. As for the insults, it's for children of illiterates; if you are trained properly, you won't do that, unless you are a witch or wizard," he stated.
Osagyefo Amoatia Ofori Panin was speaking at the inauguration of the Kyebi Archdeaconry at the St. Martin Anglican Church on Sunday.
He contended that no well-nurtured individual takes pride in insulting elders, saying "if you were raised in the church, you will not insult an elder."
Speaking at the same event to mark the end of his three-day tour of the Eastern Region, President Akufo-Addo urged Ghanaians to have confidence in his ability to turn things around.
He was optimistic that God will help him transform the country's ailing economy for the better.
"Let's keep our faith in God and let's trust God to use me to turn the fortunes of the nation around. Don't lose faith in me; keep believing me, know that this too shall pass," President Akufo-Addo said.
Government is being urged to take drastic steps including reshuffling its appointees with the aim of cutting down on costs and restoring confidence in the distressed economy.
The Finance Minister, Ken Ofori-Atta, continues to be identified as one person who must exit office amid the free-fall of the cedi.
A minimum of ¢14 is needed to get a dollar, something experts fear could worsen in the coming days.
Cause of cedi depreciation
The Finance Minister has said the current level of depreciation may have been occasioned by a rush for dollars to import Christmas goods.
According to Mr Ofori-Atta, it is quite perplexing to see the level of the cedi's depreciation.
He has urged Ghanaians to not panic or put further pressure on the cedi as the currency continued its rapid slide against the US dollar in October.
"…It's quite perplexing to see where it's going. Of course, typically in October, people are importing for Christmas and maybe there's a rush for that (the dollar) but my expectation is that once we also conclude with the Fund (IMF), that will lead to the fund's disbursement early next year to do that," Mr Ofori-Atta said in an interview with Accra-based Asaase Radio.
Ghana is hoping to receive as much as $3 billion under an IMF-extended credit facility program to bolster its finances and regain access to global capital markets.
He added that additional support from countries such as Germany and France would provide the country with the funds needed to halt the slide of the cedi.
Source: MyJoyonline.com