NEWS
Otumfuo spoke his mind on galamsey – President Akufo-Addo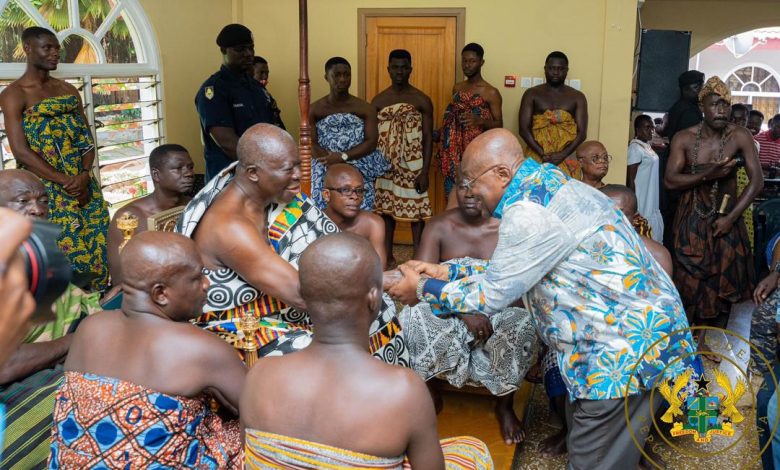 "Otumfuo, you spoke your mind on the galamsey issue and that is good for the fight against the illegal activities."
These were the words of President Nana Addo Dankwa Akufo-Addo when he called on Asantehene, Otumfuo Osei Tutu II at the Manhyia Palace on Sunday, October 16, 2022 at the beginning of his four-day tour of the Ashanti Region.
The President's comment was in reference to statements made by the Asantehene at the meeting of the Ashanti Regional House of Chiefs in Kumasi on Friday, October 14, 2022.
Big fishes
At the Ashanti Regional House of Chiefs meeting, Otumfuo stated that the government's fight against galamsey would remain a sham unless the big fishes, especially the financiers, were identified and dealt with.
He said wrong people were being targeted leaving those who procured excavators and heavy equipment to walk free.
"Why is it that the one who bought excavators is left off the hook? The military as usual take photograph of a poor labourer whose body is always covered in dirt; the labourer who receives just  200 or 300 cedis from the financier, and they say they have arrested galamsey operators. The thing is that you will find nothing on that man when he is searched."
"How come the financier is not arrested," he said in his native Twi language.
Otumfuo quizzed: "Are they saying they don't know those behind galamsey in Ghana? The gold ends up being sold abroad so who is behind the sale of gold abroad? Is it not the financier" How come he is not arrested?"
He said once the financier is arrested, galamsey can be tackled and the water bodies can be saved.
Otumfuo scold chiefs
Otumfuo Osei Tutu also warned chiefs under his authority who profit from galamsey that they would not have it smooth sailing.
"If you benefit financially from galamsey you will surely pay for it. All of us would pay dearly if we decide to tackle the canker haphazardly," he told the chiefs.
I'll end galamsey
At the Manhyia Palace last Sunday, President Akufo-Addo assured  Otumfuo Osei Tutu  that he will eradicate illegal galamsey by the end of his tenure on January 7, 2024.
According to the President, no government had been more serious to ending galamsey that his government