NEWS
Okyenhene destools Benkumhene of Asamang Tamfoe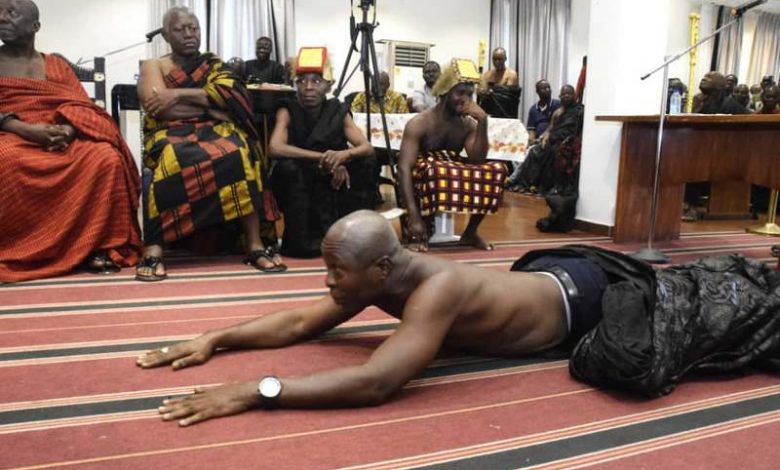 The Benkumhene of Asamang Tamfoe, Nana Darkwa, has been destooled by the Okyenhene, Osagyefo Amoatia Ofori Panin, for indulging in illegal mining activities.
This was after he had admitted his involvement in illegal mining at Asamang Tamfoe when he was summoned before the Akyem Abuakwa Judicial Council in Kyebi.
The development followed a petition by a resident group known as Concerned Citizens of Asamang Tamfoe to the Akyem Abuakwa Traditional Council on November 9.
The residents accused the Benkumhene of engaging in illegal mining which has caused the pollution of rivers and threatened livelihoods in the community.
Initially, Nana Darkwa was said to have previously declined an invitation by the Akyem Abuakwa Traditional Council to appear before the Judicial Council over his conduct, a character the Traditional Council viewed as exhibition of gross insubordination towards the Okyenhene.
Nana Darkwa, lying prostrate before the Okyenhene, pleaded in remorse, but the Okyenhene after listening to his admissions on illegal mining and calling the bluff of the Okyeman Taskforce, made a consequential order for his destoolment.
The Overlord of Akyem Abuakwa insisted that the Benkumhene was not fit to be a chief due to his conduct.
According to Osagyefo Amoatia Ofori Panin, he would not relent on his resolve to crack the whip of any chief within the Akyem Abuakwa Traditional area involved in illegal mining.
He said some of the chiefs in the area who were engaged in the illegal activities were damaging the hard earned reputation of the traditional area, while destroying water bodies and arable lands.
The Okyenhene warned the chiefs to desist from engaging in illegal activities and indicated that any chief caught would be destooled.
It was revealed that checks at the Minerals Commission denied the commissioning of any Community Mining at Tamfoe and further revealed that the Minerals Commission had not appointed anybody to chair Community Mining Module in the area.
After the destoolment, the necessary customary rites were performed by Okyenhene's chief linguist, Okyeame Antwi Boasiako, on a stone referred to as 'Bonsamboo' at the forecourt of the Ofori Panin'fie' to symbolise the destoolment of the Benkumhene of Asamang Tamfoe, Nana Darkwa, over his indulgence in illegal mining.
The customary rites were performed in the presence of the Kyebi Executive Council and the Chief of Asamang Tamfoe, Nana Kwame Koh II.
Prior to his destoolment, Nana Darkwa was said to have organised a press conference and called the bluff of the Okyeman Environmental Protection Taskforce, threatening to clash them if they dared enter Asamang Tamfoe to clamp down on illegal mining in the area.
Source: ghanaiantimes