POLITICS
NDC MPs sued for marching to EC head office fail to appear in court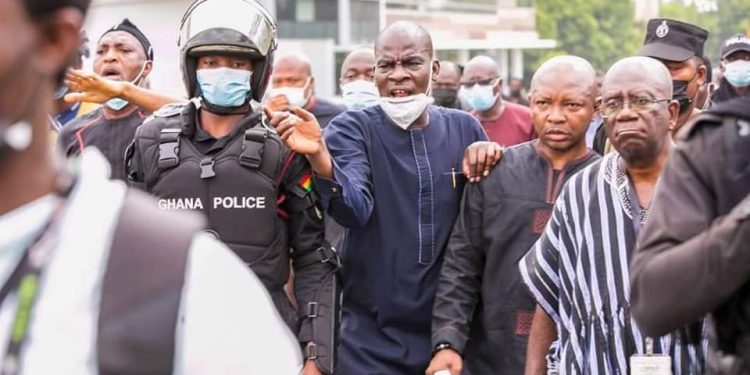 The 20 National Democratic Congress (NDC) Members of Parliament dragged before court for marching to the Electoral Commission (EC) failed to appear in court today, Monday, January 2021 which was supposed to be the first hearing of the case.
The MPs are; Haruna Iddrisu, Mohammed Mubarak Muntaka, Samuel George, John Abdulai Jinapor, Rockson Dafeamekpor, Ras Mubarak, Mutawakilu Adam, Ebenezer Okletey Terlabi, Dr. Kwabena Donkor, A.B.A. Fuseini,  Kwabena Minta Akando, Yusif Issaka Jaja, Isaac Adongo, Emmanuel Armah Kofi Buah, James Klutse Avedzi, James Agalga, Collins Dauda, Abdul Rashid Pelpuo, Richard Quashigah, and Zanetor Agyeman-Rawlings.
The Minority MPs were slapped with the charge of violating the public order after they were accused of failing to properly notify the police prior to their march to the headquarters of the Electoral Commission in December 2020.
The Accra Circuit Court 11 which was to hear the matter adjourned the case to 19th January 2021.
The Minority caucus in December 2020 marched to the headquarters of the Electoral Commission to petition the electoral management body over their disagreement of the results of the 2020 presidential and parliamentary polls.
They, in particular, are challenging the results of the Techiman South parliamentary poll.
The Caucus in the six-pager petition is asking the EC to re-collate the Techiman South Constituency Parliamentary and Presidential Elections Results from all the 266 polling stations.
However, the legislators were met with resistance from the police officers who applied some force to stop them from going to the premises of the EC.
The court summons were reportedly posted to each of the 20 MPs through their pigeonholes.
The Member of Parliament for Kumbungu, Ras Mubarak said in an earlier interview that the members will not report at the court because there was no official communication from the Office of the Speaker of Parliament granting permission for them to honour the invitation.
He said the police are conducting an illegality by trying to get them to go to court without seeking the permission of the Speaker of Parliament.
"In any case, Parliament is sitting on Monday at 10 am. And they of all people should know better that, when Parliament is sitting, unless the Speaker explicitly releases any MP, no one can summon them to any court. So, this is illegality," Mr. Mubarak said.
"They should follow the Constitution. They should contact the Speaker [of Parliament] to inform him of what they want to do, the Speaker will give directions, invite the parties, and discuss it before any such service can be served on MPs. But you don't send these things to MPs and leak it to the media and expect that any MP will take you seriously. They are taking us into the abyss," Ras Mubarak said in a Joy News interview.