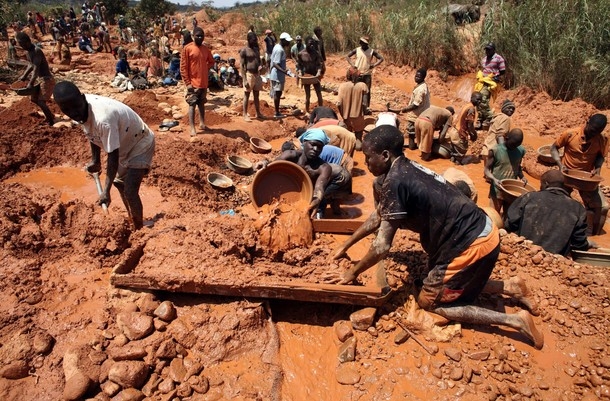 The Lands and Natural Resources Minister-designate, Samuel Jinapor, says President Nana Akufo-Addo remains resolute in his commitment to fighting illegal mining, popularly known as 'galamsey', despite the challenges his government has encountered so far.
Speaking before the Appointments Committee of Parliament on Wednesday, February 24, 2021, Mr. Samuel Jinapor said, "In every dispensation, when you're rolling out policies, especially you're dealing with intricate sectors such s small-scale mining, you'll have problems. I have taken time to study a lot of literature and noted that all the previous ministers encountered lots of challenges".
Delinquents
"You'll often have party people and lots of big wigs fighting against the process. What is important is that the president is absolutely committed to making an impact in this illegal small-scale mining industry," he added.
Mr. Jinapor also said he will apply the law firmly against individuals who engage in illegal mining.
"I agree that you will often have people in your own party and chiefs trying to frustrate the [fight against illegal mining] but I want to give a firm assurance that if I get the approval of Parliament, I'm moving in there with all humility and modesty to apply the law without few or favor."
Commitment
In 2017, Nana Akufo-Addo declared that he was prepared to put his presidency on the line in the fight against galamsey.
His declaration was amidst new measures such as the deployment of police and military personnel to arrest illegal miners across the country and the introduction of a community mining programme aimed at regulating small-scale mining in communities in an environmentally sustainable manner.
Recently, there have been complaints that the water bodies that were regaining their natural state at the height of the fight against galamsey are becoming polluted again, due to the increasing activities of illegal mining in various parts of the country.
President Akufo-Addo said the major challenge with the issue of illegal mining in Ghana is the use of technology which has worsened the effect on the country's environment.
Meanwhile, President Akufo-Addo has dissolved the Inter-ministerial Committee on Illegal Mining (IMCIM).
The IMCIM was established by the New Patriotic Party government to clamp down on illegal small-scale mining, also known as galamsey, which is causing havoc to the country's water resources and lands.
The Committee was headed by the former Minister of Environment, Science, Technology, and Innovation, Professor Kwabena Frimpong-Boateng.
** The Thunder Gh News | News In Flash! here
Follow us on Twitter: @TheThunderGh
#TheThunderGhNews