SPORTS
Manchester United's record against the Top 6 could cost them title [ARTICLE]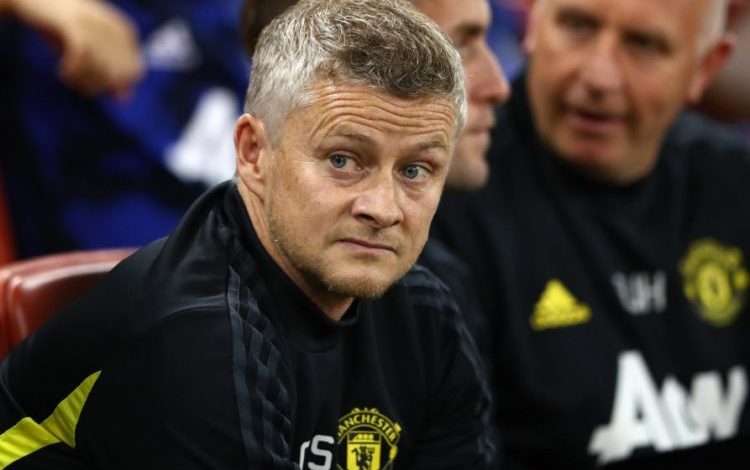 Since Ole took over Man Utd, onlookers have seen some outstanding results as Man Utd have beaten each Top 6 rival at least once; the most recent coming a weekend ago as United squeezed past Liverpool.
Whilst this is a commendable feat, there has been a lack of goals this season.
Ole's Man Utd is the classic counterattack team against their Top 6 rivals and it has been no surprise that Man Utd has struggled to score as many goals.
Louis Van Gaal, Jose Mourinho, and Ole Gunnar Solksjaer are the only manager's Post-Sir Alex Ferguson Era that has completed full PL seasons. As a result, comparing their numbers and seeing how they match up will offer enough insight as to which manager has been able to match the other 6 sides and who's scored more.
Under Louis Van Gaal, Man Utd played each of their top 7 rivals at least 4 times. He managed to record an overall 41% success rate whilst drawing 37% of the remaining games and losing 22%.
Whilst this might seem commendable, it was a record that saw LVG fail to win against Chelsea and concede a total of 31 goals, and scoring 36.
Owing to playing Liverpool the most, LVG's side managed to score an impressive 10 and let in only 5. Arsenal was LVG's bogey side as his side let in 9 goals against them.

When Jose Mourinho took over, the side's chances automatically looked brighter as Mourinho had an impressive record against every top 6 sides in the league.
Mourinho's reign had its own issues but Mourinho managed to win 15 of the 35 against the top 6 sides whilst ensuring a 44-goal haul against these sides.
Unusual of a Mourinho side, his Man Utd side conceded 43 goals. A loss rate of 34% and 23% in terms of draws showed Mourinho's shift in mentality at United as he tried to go all out to win rather than lose certain matches.

With Ole at the helm, Man Utd have managed 14 wins out of 34 games whilst drawing and losing 10 each of the ties against the top 6 sides.
Ole had been unsuccessful against Liverpool until United's FA Cup win last weekend. Ole has been extremely focused on playing a low defensive block and relying on the pace of his forward line to get their goals.
Whilst this approach has seemed to be a great tactic, it has failed to light up Old Trafford or any of these opposing team's home venues. Ole has shipped in 35 whilst scoring 37. Chelsea has been his best customers as he has scored 12 times against them whilst both Spurs and Man City have scored 8 against Ole's Man Utd.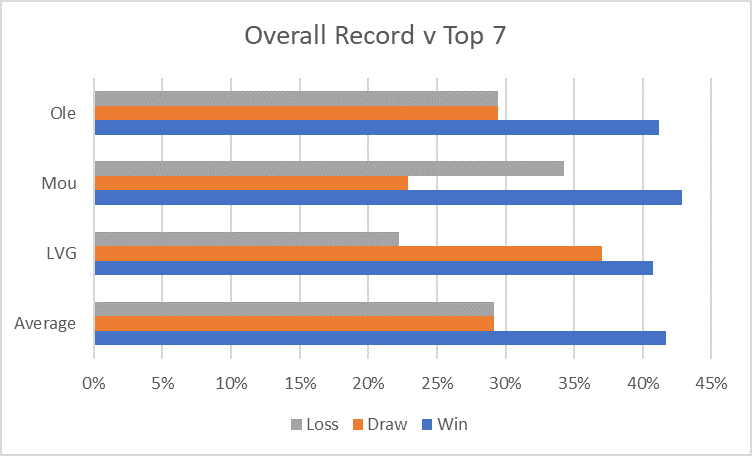 A glance at the total picture shows Mourinho has been the standout performer against the other Top 6 sides as he has secured more wins and scored more goals compared to the other two managers.
Whilst Ole has performed admirably in these clashes, the problem is Man Utd have drawn blanks in 5 of these clashes this season as seen below, whilst scoring only 3 times in 6 games. This trend is a cause for concern for Man Utd.
A total of only 3 goals in 6 games in the first round against these teams is a poor record that must improve. Ole may have an admirable record in terms of draws secured in comparison to Mourinho during his ill-fated reign but Ole must begin turning the draws into wins if he wants to stand a chance at competing for the PL title at all.
The general feeling for his conservative approach could be justified as Ole may still be feeling the effect of letting in 6 against a then-fellow PL title challenger.
Ole has to set up his troops to finish off the few chances that may present itself against this calibre of opponents.
However, failing to score in more than half of these fixtures is a concern that would need changing if United want to present a stronger case for being considered title contenders.