POLITICS
Majority leader Kyei-Mensah-Bonsu is interim Finance Minister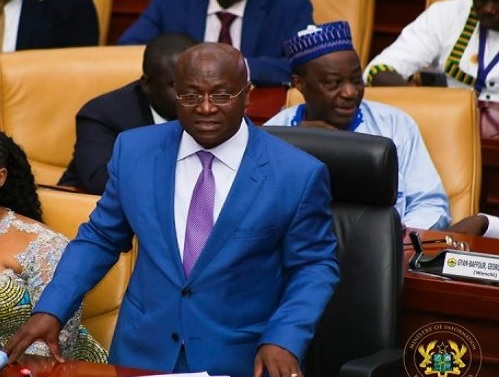 The Minister of Parliamentary Affairs, Mr Osei Kyei-Mensah-Bonsu has been assigned additional responsibilities as an interim Minister of Finance. President Nana Addo Dankwa Akufo-Addo gave him the temporary responsibility for the Ministry of Finance in addition to his work as the leader of government business and Majority Leader in Parliament. He is expected to present the government's 2021 Budget Statement in Parliament on Friday, March 12, 2021.
The additional assignment to the Member of Parliament for Suame is in pursuant to Order 140 rule 2 and 3 of the Standing Orders of Parliament.
The Speaker of Parliament, Mr Alban Sumana Kingsford Bagbin, who made this known Thursday evening [March 11, 2021] on the floor of Parliament said "The Minister of Parliamentary Affairs now has a responsibility over the Ministry of Finance." He stated this when he read a communication from the Presidency notifying him as the Speaker and the entire House of the new temporary designation of Mr Kyei-Mensah-Bonsu.
It is expected that Mr Osei Kyei-Mensah-Bonsu will present the 2021 budget statement in Parliament tomorrow. That is due to the absence of a substantive Minister of Finance. Mr Ken Ofori-Atta who has been nominated for that position is yet to be vetted and approved by Parliament to his travel outside of Ghana for a medical review in the United States of America (USA).
Constitutional requirement
The presentation of the budget is in accordance with Article 179 of the 1992 Constitution and section 21 of the Public Financial Management Act, 2016 (Act 921).
The budget will be laid in Parliament on Friday, March 12, 2021, for consideration and approval. In October last year, Mr Ofori-Atta presented the 2021 Expenditure in Advance Appropriation Budget. This per the law is to make provisions for the first quarter expenditure due to the transition and change of government after the 2020 elections.
Government expenditure for the first quarter of 2021 was estimated at GHȻ27.34 billion whilst estimated total revenues and grants was pegged at GHȻ13.3 billion.
The total expenditure and arrears clearance was at GHȻ24.01 billion, which was expected to leave a fiscal gap of GHȻ10.7 billion.
Source: Graphic.com.gh