Editorial
MAHAMA IS IN COURT OVER HIS UNHOLY FIXATION OF JEAN MENSA BUT NOT TO CHALLENGE ANY ELECTION RESULTS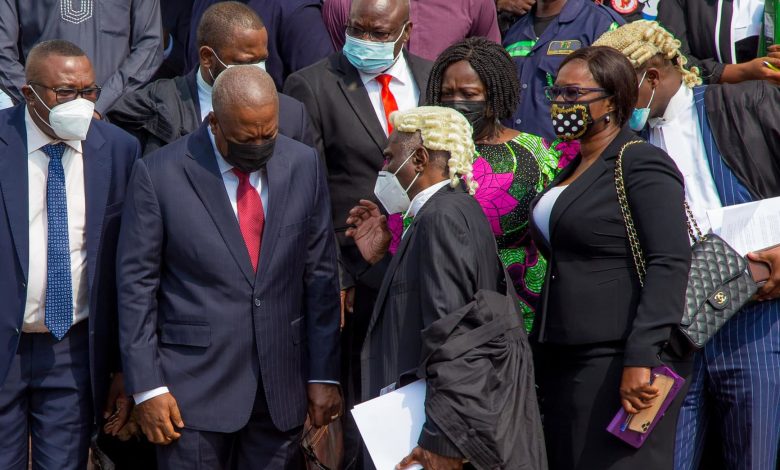 The failed presidential candidate of the opposition National Democratic Congress, John Dramani Mahama, after the 2020 elections, painted a very sombrely shadowy picture of events which he claimed impaired his chances of being declared the winner in the elections.
It was widely proclaimed by him and his surrogates that the Electoral Commission had formed an unholy alliance with the ruling New Patriotic Party to deny Mr. Mahama and his party what the Ghanaian electorate had given to them by way of taking over the affairs of the country.
The leadership of the party piously hummed their dissatisfaction of how the results were collated and declared and like canary birds, urged their party members to bare their teeth to the Electoral Commission.
Having failed to yield fruits with those demonstrations, it was decided that the Supreme Court was to be petitioned as that was the only place such matters are adjudicated.
Based upon Article 64(1), Ghanaians were told that a petition had been filed by Mr. Mahama against the Electoral Commission over some infractions he said defined the results as collated and declared. The said infractions, he said, went against him.
With a great degree of promptitude, the Supreme Court sat on the matter, with Ghanaians watching keenly as proceedings are telecasted for all and sundry to be abreast with the issues under contention.
Needless to say that apart from the petitioner having woefully failed to adduce evidence to prove his claims, his petition has also been riddled with confusion as he has been shifting the goalposts in the course of proceedings.
What hasn't been hidden in Mr. Mahama's quest to get to the so-called truth is a certain preoccupation he nurtures about Jean Mensa. Behind the so-called petition has been an overwhelming desire to embarrass the Chairperson of the Electoral Commission by the petitioner.
This is clearly seen by these attempts to reopen the petitioner's case with the aim to subpoena her to testify as Jean Mensa and not as the representative of the Electoral Commission. Meanwhile, Jean Mensa performed her duty as Chairperson of the Electoral Commission for which reason the petitioner ought to be in court.
Counsel for the petitioner, Tsatsu Tsikata, has prayed the court to allow the petitioner the opportunity to reopen his case in order to compel Jean Mensa into the witness box as a hostile witness. This sums up the ulterior motive of Mr. Mahama in his decision to go to court, which is to get at Jean Mensa as a person for reasons discerning minds cannot fail to grasp.
The Supreme Court, it is hoped, would be guided by its own rulings in the ongoing matter and other cases cited by counsels for respondents to throw out this new application to reopen the case.
by: P.K. Sarpong, Whispers from the Corridors of the Thinking Place
** The Thunder Gh News | News In Flash! here
Follow us on Twitter: @TheThunderGh
#TheThunderGhNews