NEWS
Lotto writers, operators reject NLA's 20% commission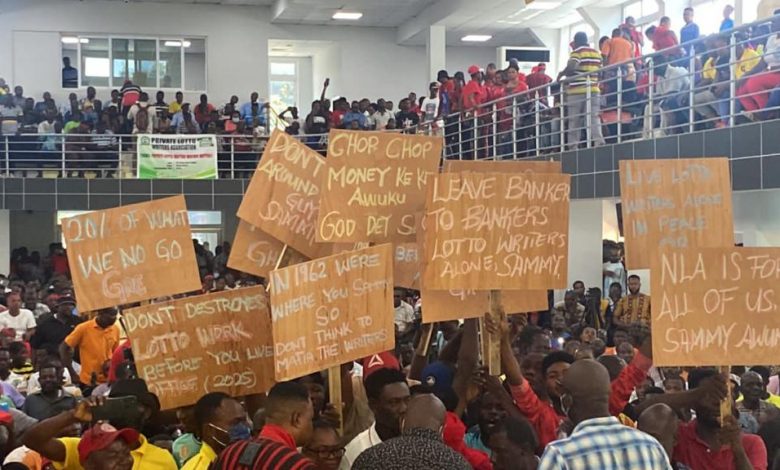 Lotto operators, agents and writers across the country have kicked against a decision by the National Lottery Authority (NLA) to reduce commissions paid to lotto writers from 30 per cent to 20 per cent.
The lotto operators, writers and agents said the reduction in the commissions would make life difficult for them, especially in the face of the high cost of living and the general worsening economic condition.
They are therefore calling on the NLA to rather increase the commissions to 40 per cent or maintain the original 30 per cent commission
At a stakeholder meeting in Accra Tuesday (November 8, 2022), the lotto industry players said even the 30 per cent commission was not adequate and therefore a reduction to 20 per cent would collapse their businesses and make life unbearable for them and their families.
Stakeholders meeting
The stakeholders meeting was among the Lotto Operators Association (GLOA), Concerned Lotto Agents Association of Ghana (CLAAG) and Private Lotto Writers Association (PLAW).
It was meant to allow the various groups to discuss the decision by the NLA in October this year for the commission to be reduced from 30 per cent to 20 per cent.
The hundreds of lotto writers and members of the associations who turned up for the meeting were clad in red and carried placards to drive home their displeasure about the reduction in their commissions.
Some of the placards read "Think about the Poor before you act and NLA why "
Economic hardships
The Executive Secretary of CLAAG, Eric Kweku Duah- Tawiah said the reduction in the commission had been met with fierce resistance by the lotto writers and other industry players.
"The situation has resulted in several incidence of near altercations between lotto writers and their respective agents ," he said.
According to him, with the current economic crisis, a reduction in the commission of lotto writers could collapse the industry as it would no longer be attractive.
Already, he said the industry was under serious strain due the the introduction of lottery on phones , which has reduced the sales of the lotto writers.
He said if the NLA refuses to listen to them, the associations would be forced to hit the street in a demonstration highlight their plights, and also present their grievances to President Akufo-Addo.
"The industry is already suffering. Reduction in commissions is therefore a double blow for the writers and all industry players, he said.
He announced that the associations would soon meet the NLA for the authority to address their concerns.
Source: GraphicOnline