Editorial
LET'S HAVE STIFFER PUNISHMENT FOR GALAMSEY CHIEFS AND POLITICIANS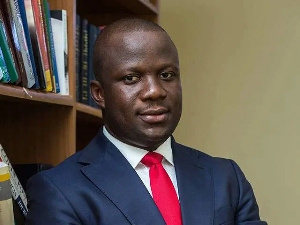 On a major platform on galamsey and how we can manage the phenomenon for our national and collective benefit, Lands and Natural Resources Minister, Samuel Abu Jinapor has suggested stiffer punishment for politicians, chiefs and local goons behind illegal mining in Ghana.
According to the Minister, dealing with unruly characters will go a long way to help the fight the scourge of illegal mining.
National dialogue
Speaking at the opening of a national dialogue on illegal mining in Ghana, Samuel Abu Jinapor said a lot more stringent actions must be taken to deal with the menace since, in his opinion, naming, shaming and punishing politicians, chiefs, religious leaders and people with money and influence who are promoters of this criminal cartel in this industry, will be key in killing the menace.
Again, he threw open the kind of enforcement regime that would bite the delinquent in the National Consultative Dialogue on Small Scale Mining, which is expected to come out with a communiqué on the solution to the illegal mining menace.
Stakeholders
What in our opinion is relevant in the two-day roundtable discussion on challenges confronting the small-scale mining sector is that it had inputs from key mining experts, the Small-Scale Mining Association, the Coalition of Civil Society Against Illegal Small-Scale Mining, among others.
Some stakeholders at the ongoing National Consultative Dialogue on Small Scale Mining have proposed the strict enforcement of mining laws as one of the solutions to the many problems in that sector.
We are also enthused that to enable the fight endure and bear fruit, there is the need to decentralisation of the issuance of mining lease and licence for small scale miners and strengthen local government authorities together with district and regional security councils in taking swift action
Unfortunately, that's where our problem is. We must admit that our local government agencies, which are supposed to be true agents of formalisation, have failed us in terms of drive and efficiency.
That is why we must first let them back on track as agents of formalisation before we can thrust such huge responsibilities on them.
Whatever the situation is, the Minister's message is clear; and that is that judgment must begin at the top.
#TheThunderGhNews