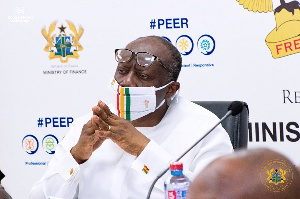 The Minister-designate for Finance, Ken Ofori-Atta, has arrived in Ghana from the United States of America where he was receiving medical care after suffering some complications following his recovery from the novel coronavirus, COVID-19 after getting infected last December.
Ofori-Atta left the shores of the country on 14 February 2021 after the Finance Ministry announced that the President's representative at that Ministry, will travel to the United States for an important medical review based on the advice of his doctor.
Ofori-Atta spent about 30 days at the Mayo Clinic in Minnesota, USA, where he received specialized treatment for post-COVID-19 complications. The Thunder Gh News understands that while the Finance Minister-designate is clearly on amending with regard to the medical challenge he suffered, his doctors have advised that he reduces his workload in order to ensure that he makes a complete recovery.
Upon arrival on Delta Air at the Kotoka International airport on Saturday 20 March 2021, Ofori-Atta drove straight to the Jubilee House, the seat of the country's presidency to inform President Nana Addo Dankwa Akufo-Addo, of his recovery and return back to base.
As a result of the health challenge of the Finance Minister-designate, for the first time in the history of the 1992 fourth republican constitution, the budget and economic policy of a ruling government for a fiscal year (2021), was presented to Parliament by another Minister (Osei Kyei Mensah-Bonsu, Ministry for Parliamentary Affairs and Leader of Government Business in the House) instead of the Finance Minister. The budget received Parliamentary approval on the 19th of March 2021 by a majority vote of 137 as against 134.
All of President Akufo-Addo's Substantive Ministers of State and Regional Ministers have been vetted by Parliament's Appointment Committee and have subsequently been sworn into office by the President following Parliamentary approval with the exception of the Finance Minister-designate, Ken Ofori-Atta, due to his ill-health which took him away from the country. Parliament's Appointment Committee is expected to engage the government to find an appropriate time and date for the vetting of Ken Ofori-Atta now that he is back in the country.
The Mayo Clinic
Mayo Clinic is top-ranked for quality more often than any other health care organization. Mayo Clinic Hospital was once again named the No. 1 hospital in the nation, according to U.S. News & World Report's 2020-21 "Best Hospitals Honor Roll.
The hospital is ranked in 12 specialties, with No. 1 rankings in six specialties: Diabetes & Endocrinology, Gastroenterology (GI) & GI Surgery, Gynecology, Nephrology, Pulmonology & Lung Surgery and Urology. The hospital is ranked No. 2 in Cardiology & Heart Surgery and Orthopedics. Mayo Clinic is also ranked No. 3 in Cancer and Ears, Nose & Throat.