BUSINESS NEWS
Inflation rate for February 2021 rises slightly to 10.3%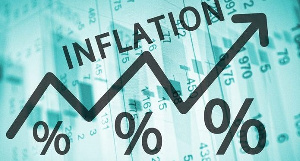 The year-on-year inflation rate rises to 10.3% in February 2021 compared to 9.9%, the previous month, the Ghana Statistical Service (GSS) has said.
The rate is 0.4 percentage point higher than the rate for January 2021.
The month-on-month inflation between January and February was 0.8%.
Professor Samuel Annim, the Government Statistician, said the slight increase in the inflation rate was due to a rise in non-food inflation.
Non-food inflation rose to 8.8% from the January rate of 7.7%.
The food and non-alcoholic beverages inflation fell to 12.3% from 12.8%.
On a month-on-month basis, food inflation was zero per cent, Prof Annim said.
"With this rate, food contributed 52.6% to overall inflation. This is the lowest since September 2020," he said.
Within the food division, vegetables with 17.4% inflation remains has the subclass with the highest rate of inflation but lower than the last month's rate of 20.3%.
The difference between locally produced items which recorded 11.7% inflation and imported items with 6.7% stood at five percent.
Regional breakdown
At the regional level, the overall year-on-year inflation ranged from 4.4% in the Volta Region to 14.8% in Greater Accra Region. In the Greater Accra Region (11.6% food inflation and 17.2% non-food inflation), non-food outpace food inflation.
The largest difference in food and non-food inflation was again recorded in Eastern Region (14.5% and 2.4% respectively). Overall, year-on-year inflation went up in seven regions compared to January 2021.