SPORTS
Ilkay Gundogan wins Premier League Player of the Month award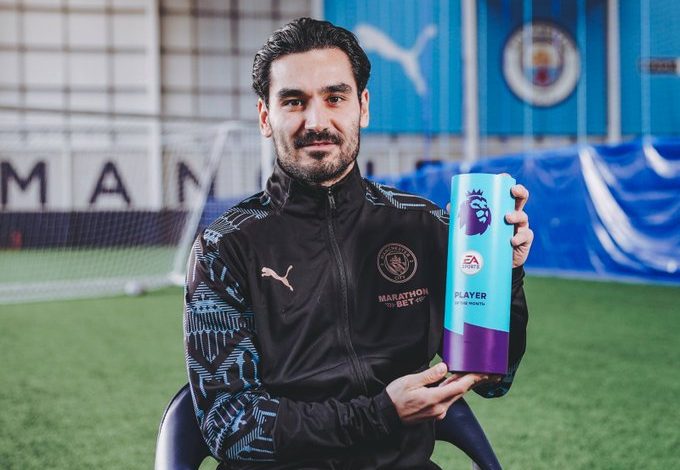 Manchester City midfielder Ilkay Gundogan has been named Premier League's Player of the Month for January.
The 30-year-old scored five goals as City won all six of their Premier League matches in January to go top of the table.
Gundogan started every one of his side's league matches last month and believes that his side's form has left them believing they are strong enough to beat every side they face.
"The highlight of January? I don't even know," said Gundogan. "I think it was all the month because we won all the games. It was just the run, you know the feeling that you have inside yourself that you're so strong at the moment as a team, not just yourself, that's just an amazing feeling." He told the club's website.
An honour to be @premierleague Player of the Month. Thanks to everyone who has voted for me ⭐💪🏼 A big thank you to all my teammates – it would have not been possible without your amazing support!💙@ManCity pic.twitter.com/yIXJI9Sgpl

— Ilkay Gündogan (@IlkayGuendogan) February 12, 2021
"I had that feeling a few times in the season where we had 100 points, or the season after where we won one point ahead of Liverpool, or when I used to play for Borussia Dortmund.
"You have that feeling sometimes where you just feel so strong and unbeatable. That was the best moment that went all throughout the month."
The German missed the start of the campaign after testing positive for Covid-19, but he has since emerged as a regular starter in central midfield.
Most recently, Gundogan scored his eighth and ninth Premier League goals of the campaign in City's 4-1 thrashing of Liverpool at Anfield on Sunday.
It means his goal tally is already higher than in any of his previous four full seasons at the Etihad Stadium, while he is also the Premier League's top scorer since December 15.
Asked if he could see out his playing career at City, Gundogan told Sky Germany: "I must honestly say that I can imagine that happening.
"The way they work here, not only athletically but also in all areas around it, is something I have never seen before in my career. I feel like the club is more than just the football itself […] and it's just a nice feeling to be a part of this family."