POLITICS
Henry Quartey is doing a "good job" – Nana Addo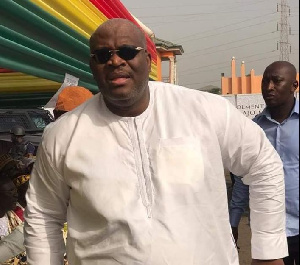 The President Nana Addo Dankwa Akufo-Addo has said he is solidly backing the Greater Accra Regional Minister, Henry Quartey, for his tremendous work towards transforming the capital, Accra and other communities.
Quartey has in the past months embarked on a project dubbed, "Making Accra Work Again", to decongest the city and also to relocate squatters. He said the strategy is to make the national capital livable and safer.
Ahead of his tour of the Greater Accra Region, President Akufo-Addo said the minister has been exceptional at post, despite the backlash from certain quarters of society that he is making the governing New Patriotic Party (NPP) unpopular.
"He initially didn't want to take the position and wanted something else but I wanted him to do it," Nana Addo told Accra-based Peace FM on Thursday (21 October).
"He's proved to be an extremely strong choice and preference. He's in for the job and not to joke. He's a committed regional minister. He's doing a good job," Akufo-Addo said.
Quartey served as a deputy minister of interior in the first term of President Akufo-Addo before his appointment as the Greater Accra Regional Minister in the second term of the same government. Meanwhile, Quartey has accused some members of the NPP of working against him. He said some of his party members are claiming that he is becoming too popular and powerful in the party.
"We sit here and say, break the eight, break the eight, and you are holding meetings among yourselves to bring somebody down. I am sad today and I will explain why. When the President gave me the position to be the Regional Minister, he among other things wanted me to be able to unite the party at the grassroots. That I have been doing, and so I thought, people, will stop speaking behind our backs.
"But just last week, some people met and said, I am getting too much power in the region, so they are planning to bring me down. But when you do this, how do we break the eight? All I am doing is working for all of us. All we care about is our personal ambitions but let's all realise that we have one agenda to break the eight," Quartey said.
Source: Asaaseradio