SPORTS
Hearts of Oak fans lock up club secretariat in protest of board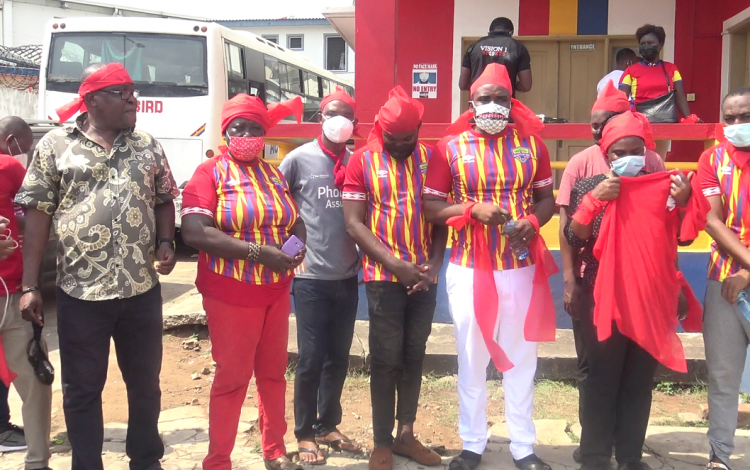 Scores of Accra Hearts of Oak fans besieged the club's secretariat on Wednesday morning and locked up the edifice in protest of the club's Board of Directors.
The fans' drastic action was in response to the recent mass resignation that hit the Phobians' technical team.
Head coach Kosta Papic and goalkeepers' trainer, Ben Owu, left the club on Monday, following assistant coach Asare Bediako who resigned a week earlier, out of the club.
The fans, numbering about 100 and led by National Chapters Committee Chairman, Elvis Hermann Hesse, accused Hearts Board Chairman, Togbe Afede of running the club down and demanded, among other things, the immediate dissolution of the board.
"If the coaches are leaving, it is the board which has failed. If you fail to plan, you plan to fail and that is why the center cannot hold," Hearts Ladies President Vincentia Doku told Citi Sports.
The fans meanwhile have threatened further demonstrations if the board does not immediately address their concerns.
"We are tabling four demands that must be addressed immediately, or the board will see bigger non-stop demonstrations across the country," Hesse told Citi Sports.
The fans' four demands include the following:
Immediate reconstitution of the club's board of directors
An immediate meeting with the club's majority shareholders
An immediate organization of an Annual General Meeting
An immediate appointment a CEO and first-team coach who must be Ghanaian and given free hand to operate.
Hearts of Oak has been without a CEO since Frederick Moore left his role in November last year and are effective without a properly constituted technical team, having installed U-15 coach, Samuel Nii Noi in temporary charge until a new coach is named.
"Togbe is our problem. If he does not want the club again, he should float shares. We will buy the shares," Shamo, Greater Accra Regional Chapters Committee chairman said.
Former General Secretary of the National Chapters Committee, Maxwell Asabere, meanwhile, accused board member Alhaji Akanbi of causing division in the playing body.
"Akanbi is a big problem. He has managed to divide the playing body into Muslim and Christian groups. The Muslim players are not playing for the Christian players and vice versa, and that's all Akanbi's doing," he said.
The Hearts of Oak board has called an emergency board meeting for 2 pm on Wednesday where they are expected to address all matters arising from the last few weeks.
Hearts of Oak are currently 11th on the league log, 8 points off the top.