POLITICS
HARUNA IDDRISU'S DOUBLE STANDARDS IN ACCUSING POLICE OF STOPPING MPS' FIGHT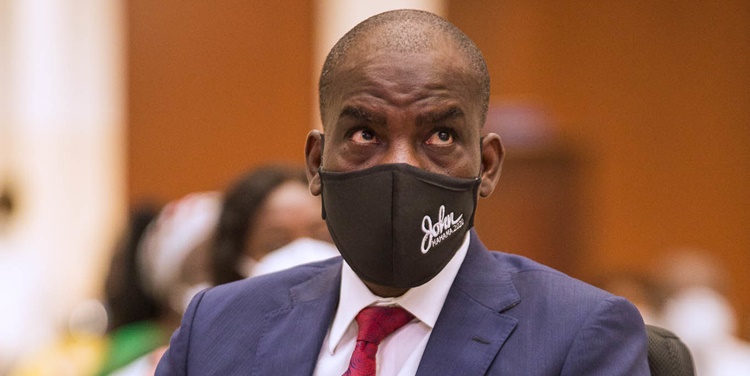 The media has widely reported Leader of the National Democratic Congress caucus in Parliament, Haruna Iddrisu, as saying the Greater Accra Regional Police Operations Commander, ACP Kwasi Ofori, "will have to come and explain to the house what business he and his men had in the chamber of Parliament during the election of a Speaker for Ghana's 8th Parliament."
It is further reported that [dis]Honourable Mr. Iddrisu, who was speaking in a Joynews interview on reports of a police invitation to him and some MPs in his party for marching to the headquarters of the Electoral Commission in defiance of the Public Order Act, lied that he is yet to cite an official communication to that effect.
Again, we are told that the Member of Parliament for Tamale South argues that it is the Regional Police Operations Commander and his officers who were in the House to cause trouble.
This is against the common notion that the decent public officers were only expressing concern about how an honourable crowd of MPs would put Ghana to such diplomatic jeopardy.
Diversionary
The Majority Leader, who it is generally believed, has a fair understanding of the workings of the Legislature, shocked decent Ghanaians when he made that awful statement that had the diplomatic community here and the whole world laughing at what he should have admitted as the Legislature's Day of Shame.
The Majority Leader made matters worse when he lamely argued that that responsibility of dousing the flame ignited by people who should have known better lay with the Marshal of Parliament.
That also is laughable because the framers of the Constitution [and Haruna should know that] never had in mind such an uncivilised situation, because if they had, the Marshal would have been armed with a cane to lash the MPs for disgracing the nation and tainting its democratic credentials.
In our opinion, what the Majority Leader did was only to save face and divert issues. He goofed shamefully, especially when he knows that the police and, for that matter, all the security agencies, rely on the laws that Parliament makes to maintain law and order, including the mess they MPs caused that day, in the country,
Intriguing
It is intriguing that, while a section of the MPs, including Alhaji Muntaka Mubarak, had publicly apologised. It is further idiotic to have the National Democratic Congress party leadership and its flag bearer, who has a history of a Vice President and President close to him dying under strange circumstances, being the one to commend the insane act.
It is equally intriguing that, while the NPP caucus in Parliament has apologised, the beasts who are proving that they meant every nonsense that was plotted ad endorsed in the leaked Sam Ofosu Ampofo audio, continue to hail that same nonsense that was sold the nation and international community on such an auspicious occasion.
Haruna; don't join the beasts. Don't. Sober minds like you are the hope of the NDC and its future – not Ampofo, Mahama, and Asiedu Nketia.