SPORTS
FIFA launches new captain's armband on eve of World Cup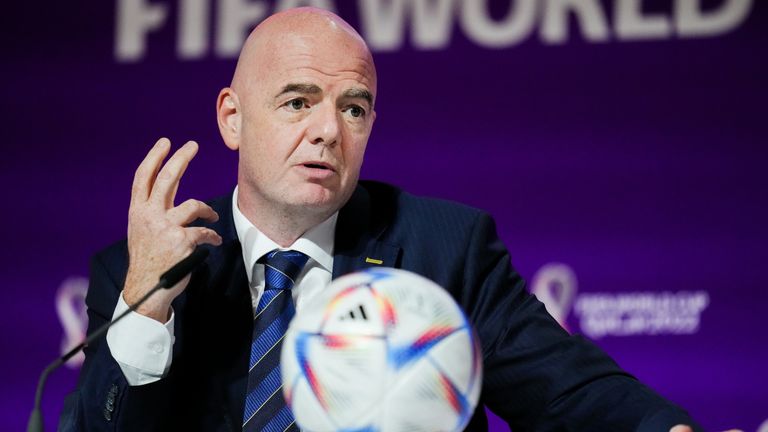 FIFA has announced an armband campaign in col­laboration with the United Nations (UN) likely to ramp up tension between the global governing body and European countries which have already vowed to wear "OneLove" cap­tain's markers.
The FIFA armbands are to have a different hashtag slogan for each round of fixtures.
The climate crisis, food short­ages and encouraging education are among topics addressed, while the message for the quarter-finals is "#NoDiscrimination."
FIFA is collaborating with UN agencies including the World Food Programme and World Health Organization on the campaign.
"#FootballUnitesTheWorld" is the message for the first round of group games, which begunyes­terday when the Qatari hosts faced Ecuador.
FIFA's announcement comes with eight European teams play­ing at the tournament – Belgium, Denmark, England, Germany, The Netherlands, Portugal, Swit­zerland and Wales – having vowed to wear a OneLove captain's armband.
The OneLove armbands feature a rainbow design and are a pointed criticism of Qatar's laws criminalising homosexuality.
Officials and players from sev­eral of those nations, which com­prise the UEFA Working Group on Human and Labour Rights
have maintained they will wear the OneLove armband despite the threat of FIFA sanctions.
"We have clear regulations about the armbands, they are pro­vided by FIFA," President Gianni Infantino said on Saturday.
Infantino went on to add that FIFA had chosen "campaigns which are universal, because FIFA is universal… we need to find topics
that everyone can comply with, or can adhere to."
Qatar's record on human rights has been one of the dominant themes of the build-up to this World Cup.
Homosexuality can be punish­able by death and the promotion of same-sex relationships is illegal in Qatar. –Insidethegames