POLITICS
Energy Minister leads discussions with World Bank on Ghana's energy sector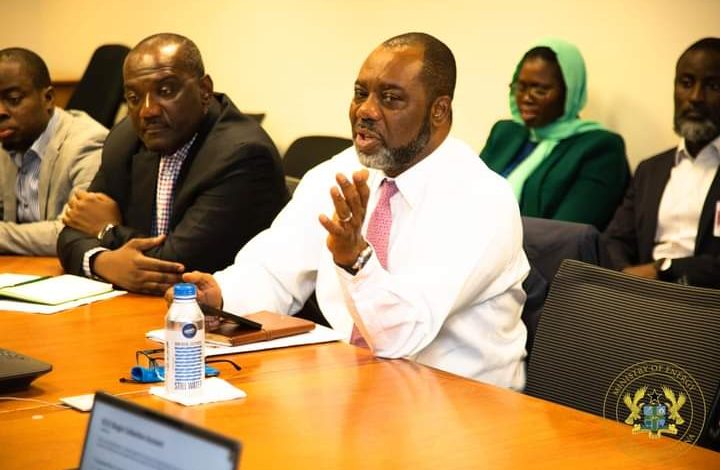 The Minister of Energy, Dr. Matthew Opoku Prempeh has led a delegation to the World Bank Headquarters in Washington DC, USA, to discuss the Bank's support for a strengthened energy sector.
The delegation, also included the Minister of State at the Ministry of Finance, Dr. Mohammed Amin Adam and other power sector players.
Discussions essentially centred on the World Bank's support in the context of Ghana's Energy Sector Recovery Programme (ESRP).
Robust energy sector
Dr. Opoku Prempeh said the quest to ensure a robust energy sector that will support Ghana's economic transformation continues unabated with every energy that could be mustered. "I have been making the point that, we remain committed to strengthening the policy and regulatory framework of the energy sector underpinned by efficient generation, transmission and distribution value-chain with strong features such as competitive procurement, a strategy for private sector participation, among others," he stated.
The discussions, he noted, afforded the delegation the opportunity for a comprehensive technical evaluation of the sector, pursuant to the continuous determination to keep the lights on and the nation moving in the Ghanaian interest.
World Bank advice
In July, 2023, the World Bank urged Ghana to put together an emergency action plan to immediately tackle the energy sector problems to prevent escalation.
The Bank's Managing Director for Operations, Anna Bjerde, who made the call at a press conference in Accra, noted that although Ghana's energy challenges are not unique, they require urgent attention.
According to her, failure to address the issues promptly would exacerbate the situation and impose greater financial burdens on the state, diverting resources from other crucial areas.
"The problems that Ghana is experiencing are not unique to Ghana, but they are very serious because if they are not addressed, they will get worse and worse. If not arrested and addressed with an emergency action plan, it will get worse and it will cost the state more to keep the energy sector running at a time when they need to spend money on other things. "The World Bank is providing, first of all, technical advice on what needs to be done, so the metering, the billing, the collection and making sure that you have an account set up from which all the different flows of the revenues collected flows to where it needs to go so that those who are generating the electricity are paid," she said.