POLITICS
Election Petition: Jean Mensa and Mac Manu cannot be compelled to testify – Supreme Court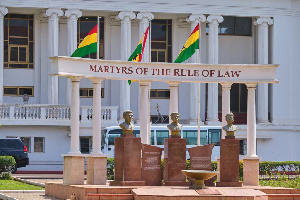 The Supreme Court has ruled that witnesses of the first and second respondents cannot be compelled to mount the witness box to testify in the ongoing 2020 election petition.
The decision by the Supreme Court follows oral arguments made by the lawyers for the first and second respondents that their clients cannot be compelled to testify.
"…Simply put, we are not convinced, and we will not yield to the invitation being extended to us by counsel for the petitioner to order the respondent to enter the witness box to be cross-examined. Accordingly, we hereby overrule the objection raised by the counsel for the petitioner against the decision of the respondents declining to adduce evidence in this petition," Chief Justice Annin Yeboah said.
It will be recalled that on Monday, the EC's lawyer Justin Amenuvor served notice that he will not be calling any witnesses because the petitioner, in the EC's view, has not put up any evidence that has been challenged or defended by the first respondent (the EC) in the case.
Amenuvor said he was basing his decision on Order 36, Rule 4(3) of CI 47, which states: "Where the defendant elects not to adduce evidence, then, whether or not the defendant has in the course of cross-examination of a witness for the plaintiff or otherwise put in a document, the plaintiff may, after the evidence on behalf of the plaintiff has been given, close the plaintiff's case and the defendant may then state the case of the defendant."
When the court reconvened on Tuesday (9 February), Tsatsu Tsikata, counsel for the petitioner, argued in his address that Jean Mensa must appear in the witness box at all costs, because it is in the interests of justice.
The position taken by the first respondent is a clear case of evading cross-examination, he said.
Tsikata contended that, as the person responsible for declaring presidential election results, Mensa owes it to Ghanaians to account to them after the 7 December polls.
He argued that the EC chair had, in her affidavits, given a clear indication that she would be available for cross-examination. On that basis, he said, the court ruled against his application for interrogatories.
Happy with proceedings
Nana Adjoa Adobea Asante, a spokesperson for the second respondent said they are happy with the proceedings in court so far.
"With the way, proceedings have gone on in court, we are happy with the way the matter has proceeded," she told Kojo Mensah, the host of The Asaase Breakfast Show.
"There have been a lot of delays at the instance of the petitioner, which is quite curious because they are the ones who brought the matter to court and they should rather be in a hurry for the final determination of the matter.
"We are happy that things are proceeding quite fast compared to how it was in the beginning," she said.