POLITICS
ECOWAS Council of Ministers meets in Accra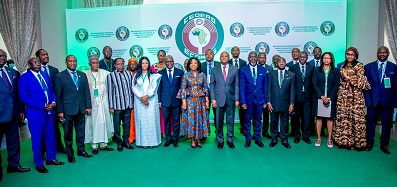 The Third Extraordinary Meeting of the ECOWAS Council of Ministers on institutional reform has opened in Accra with a call on members to work towards an efficient and effective commission to deliver for its people.
The meeting is aimed at finding a resolution and modalities for the allocation of statutory positions and adopting the organogram of the seven-member commission with its associated departments, as well as measures to further streamline ECOWAS Commission.
Held behind closed doors, the meeting was attended by the council of ministers of all member states with the exception of the suspended states of Mali and Guinea.
Opening the meeting, the Chair of the Council and Ghana's Minister of Foreign Affairs and Regional Integration, Ms. Shirley Ayorkor Botchwey, explained that the meeting, originally scheduled for September 9, 2021, had delayed due to the political development in the region, most especially Guinea.
She noted that at the ECOWAS summit, a decision was taken to reduce the commission from the current 15 members to seven.
"Following this decision, the commission prepared a report on each of the specific points considered at the summit and circulated it to members and on the basis of our procedures the ad hoc ministerial committee on institutional reform met on August 12 to discuss the report," she emphasised.
Ms. Botchwey commended the effort of the ad hoc ministerial committee on institutional reform, the ECOWAS Commission and all other stakeholders involved in the reform process for their dedication and assiduous effort in the work they had done so far.
She explained that one area worth mentioning was the circulation of key documents reflecting legal decisions charging incumbency of statutory positions in all institutions by member states to help quickly facilitate the work of the council during the meeting.
She said the adhoc ministerial committee would share its report and minutes of the virtual meeting held on August 12 to enable the council take a decision.
Key objective
"I will like to remind all of us that our key objective is for more effective and efficient ECOWAS institution that will deliver quality service for our people.
"That was the underlining basis of the decision of the summit and we need to faithfully reflect that spirit in our work here today," she said.
Ms. Botchwey called for consensus on the 15 statutory positions for the 15 member states in order to ensure that each member state participated in activities in the future.
"Let us work to present a report that will facilitate work of the authority at its 50th ordinary session to be held on December 18, 2021.
"We need to ensure collectively the achievement of practical and attainable reforms that will usher ECOWAS into an Era of productivity, cost efficiency, quality service delivery and excellence to the benefit of the community citizens," she said.
Source: Graphic online