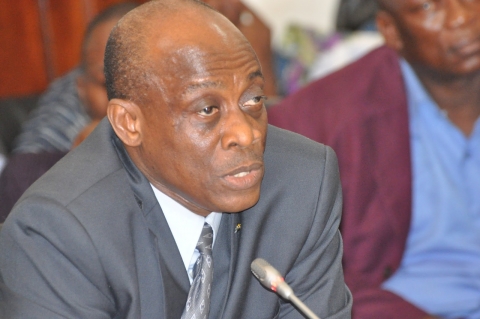 A former Finance Minister, Seth Terkper has blamed the country's Value Added Tax revenue underperformance on the challenges associated with the current trend of tax regime which he says encourages tax evasion.  
Speaking at a forum organized by PFM Tax Africa under the theme: '20 years of VAT: The Good, the Bad and the Ugly', Mr. Terkper said the current VAT regime adds consumers' burden to the cost of businesses and that eventually increases the price of products on the market resulting in companies eventually passing on that burden back to consumers.
"We should look at VAT from two perspectives. VAT is a tax on the consumer and a consumer should not be overtaxed. The structure should make it possible for the consumer not to be overtaxed. The second is businesses which are not consumers, but they are the ones collecting the tax. And if they are forced to pay the tax which is for the consumer on their inputs before they use it to produce, they will add it to cost and that will make the product expensive for the consumer" he said.
In addition, the former Minister stated that the present VAT regime, which came into force in 2018 prevents companies from being charged a standard rate of 15 percent VAT (GETFund and NHIL inclusive) plus infrastructural fund of 2.5 percent, totaling 17.5 percent.
He pointed out that, the 17.5 percent VAT is creditable and could lead to a refund when invoices to prove payment were submitted.
He further observed that the practice is that, the 2.5 percent GETFund and 2.5 percent NHIL have been detached from the standard rate (which is now 12.5 percent) and are no longer subject to credit.
Giving further explanation, he said "what that means is that, companies are eligible for tax credit and refund of only 12.5 percent and they will have to still pay the 5 percent GETFund and NHIL without credit or refund. Businesses will now have to add the 5 percent to cost before calculating the 12.5 percent VAT, which then results in tax on tax."
Another tax lecturer at the University of Professional Studies, Accra (UPSA), John Amoh, also pointed to the fact that even though the VAT regime does not discriminate, it is not fair to some sections of taxpayers due to its structure.
"Every country that has adopted and implemented VAT can testify to the fact that, indeed, VAT has increased revenues. VAT is fair to some extent aside the fact that those on the 3 percent flat rate VAT don't have the opportunity to ask for refund while the wholesalers and other manufacturers can claim and this is quite unfair to those on the flat rate".
A tax expert, Dr. Abdallah Ali-Nakyea, also bemoaned the need for reforms in the tax regime that will make it simple to understand and encourage production rather than discourage it.
"We have to improve what is good in the VAT; correct what is bad; and identify what is ugly and improve it. We need to resource the GRA to make their work easier and make the taxpayer more comfortable to be able to comply."