LOCAL NEWS
BULLETS FROM THE BANDITS BOUNCED OFF ME, Says TOMATO DRIVER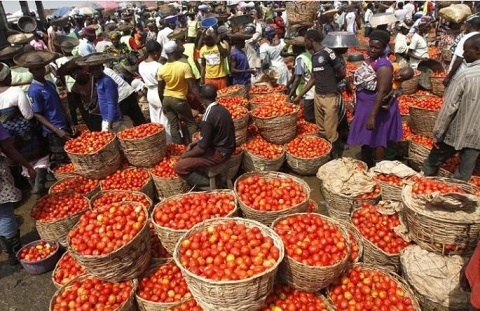 A tomato truck driver who said he was caught in one of the shooting incidents that has rocked the Upper East says he resisted the bandits and drove off when they attempted stopping him and robbing traders on a trip to Burkina Faso.
"I was about the third vehicle in the row in which some vehicles were caught. I ignored their nonsense and risked driving through it at the peril of the lives that were on board because I have protection," he claimed during an interview with The Thunder at the Hearts of Oak Park in Accra, where he had just come to offload tomato.
Explaining the kind of protection he had, he [name withheld] said the risks that were involved in driving at cross border trade level were many and that most drivers who want to last long in the business go for protection.
The slim-looking driver from Kumasi added that the bandits actually shot into the car. However, all he experienced in his body was the effect of the bullets bouncing off him as he and his female passengers and the assistant driver escaped unhurt.
The Alhaji who was shot and killed in clod blood, he added, was his master who taught him driving and it is unfortunate that he didn't survive the shooting which was carried out by the bandits.
While there have been rampant reports blaming the acts of banditry on Fulani herdsmen, he denied that, saying that it is the work of local boys in the region who are peeved about buyers crossing over into Burkina Faso to pick a tomato, instead of buying from the Bolgatanga, Navronogo, Bongo, and Pwalugu.
From January ending till February 8, 2021, about five trucks have been attacked by bandits in the Upper East along with communities near Bolgatanga; and also Doba, near Navrongo, resulting in the death of three people and wounding about five.
Reeling under the threat to their livelihoods, the leadership of the Ghana National Tomato Traders and Transporters Association called a strike and petitioned the IGP, resulting in the government improving patrols along with the stretch and escort programme for the tomato convoys.
** The Thunder Gh News | News In Flash! here
Follow us on Twitter: @TheThunderGh
#TheThunderGhNews