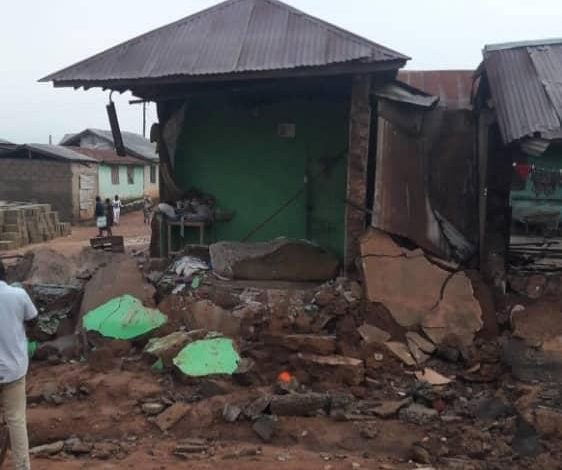 THERE WERE sad scenes at Kasaam in the Kwabre East District as a mother and daughter were killed by huge concrete blocks after a building collapsed on them.
The sad incident happened on a rainy Tuesday night when Maame Akua, 27, the mother, was fast asleep with her two children, including an eight year old boy and three year old girl.
The huge concrete blocks rained on all the three of them, leading to the demise of the mother and her daughter, whose bodies have since been deposited in the morgue.
Luckily, the eight year old boy, who also sustained life-threatening injuries, was responding to treatment in the hospital when the report was being filed on Wednesday afternoon.
The Assembly Member for the Kaasam Electoral Area, Hon. Attakorah Amaniampong, told newsmen that the heartbreaking incident happened around 11pm on a rainy Tuesday night.
He said it was raining heavily on the day so most of the residents of Kasaam were indoors at the time, adding that there was a deafening noise so people rushed to see what was amiss.
To the shock of the people, part of a dilapidated looking house in the town had collapsed and trapped Maame Akua and her two children, who were motionless at the time.
Amaniampong said the trio was rushed to the Zion Praise Hospital but the mother and her three-year old daughter were declared dead. He said the boy was still alive and responding to treatment.