LOCAL NEWS
Ban juju money doublers from television – John Kufuor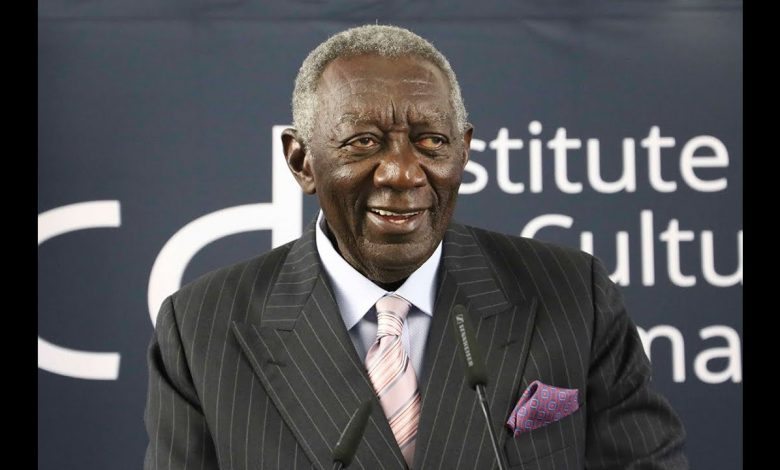 Ghana's former Presient John Kufuor has called on the country's journalists and media house owners to stop giving publicity to self acclaimed spiritualists who advertise their supposed powers to double money and turn people into billionaires overnight.
Mr. Kufuor said journalists should be responsible enough to know such claimants are charlatans and should not be given radio and television platforms to defraud innocent members of the public and pass a negative influence to young persons who may believe such claims and therefore want to patronize the services of such fraudsters.
The former President's comments were in response to reports that two Ghanaian teenagers had murdered a 10-year-old ostensibly for money rituals and the suspects have revealed they got the concept and inspiration after consistently watching some spiritualists on Ghanaian television stations advertising their money rituals powers.
"Unfortunately, you media people too, you have given too much exposure to tricksters and fraudulent people promising everything. When you look at them, you should know that these are people who are themselves just bad and ignorant and that is not the way for our society to go", Mr. Kufuor told Joy New TV.
He continued: "So I think the editorship of your institutions should rise to the occasion and cut out anything that would destroy society and also make access of the community. We need to do that. Social and community leadership should come up and tackle all these people who are now virtually hijacking the airwaves with vain promises and trickery. They should be earlier eradicated than some of the diseases we are talking about"
COURT
The two murder suspects, Felix Nyarko aged 15 and Nicholas Kini aged 17, were in court on Tuesday April 6, but were asked to be put on remand in police custody until April 20, a period of two weeks.
The police prosecutor, Inspector Japhet Agyeman, in has revealed that 15 year old Felix first got the idea to kill the 10-year-old boy after he watched several self acclaimed spiritualists on television who claimed they had money  doubling powers.
Felix then discussed the idea with his 17-year-old friend, Nicholas, who bought into it and said he already knew of another spiritualist in the Volta Region who could help them get what they wanted.
The said spiritualist, when contacted demanded a human being for sacrifice and an amount of GHC5,000 for the money rituals.
According to the fact sheet, "the 1st accused [Felix Nyarko] has been watching Ghana Television channels that entertain mallams and other spiritualists to promote their prowess in making people instant millionaires.
"He informed the 2nd accused [Nicholas Kini] who advised that there is a certain spiritualist in Volta Region who can do it for them.
The "2nd accused, who is not having a phone, provided the phone number of the said spiritualist to the 1st accused, who has access to his mother's phone.
"After contacting the said spiritualist, she agreed to help if only they can provide a human being and cash sum of GHS5,000 for the rituals"
The incident has sparked a national uproar and calls for stricter regulations to ensure television contents are based on age and time specific.
The incident has sparked a public uproar.