POLITICS
Asiedu Nketiah to challenge Ofosu-Ampofo for NDC chairmanship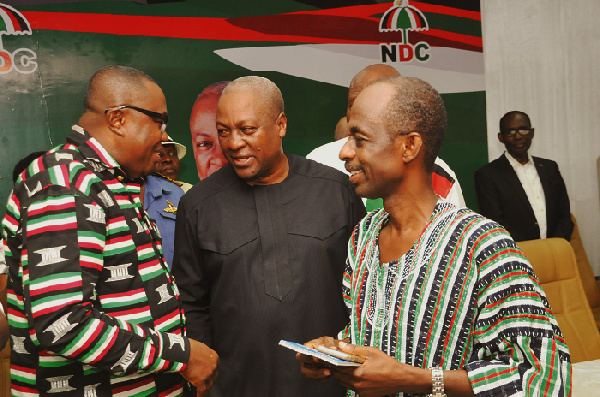 The general secretary of the opposition National Democratic Congress, Johnson Asiedu Nketiah, is poised to challenge the incumbent national chairman of the NDC, Samuel Ofosu-Ampofo, for the chairmanship in the NDC's 2022 national executive elections.
Asiedu Nketiah was first elected general secretary of the NDC in November 2005 and has since then won all elections for the position.
Ofosu-Ampofo, on the other hand, was elected national chairman at the NDC's ninth delegates' congress, held at the Fantasy Dome of the Trade Fair Centre in Accra in November 2018. His main rivals for the post were Dan Abodakpi, Betty Mould Iddrisu, Alhaji Huudu Yahaya and Danny Annang.
Sources within the top echelons of the NDC who are familiar with the latest internal developments say that Asiedu Nketiah's ambition is causing disquiet among the party rank and file.
Some political analysts believe that although Asiedu Nketiah would almost certainly be retained if he ran for NDC general secretary, his wish to move up is likely to be resisted fiercely, with Ofosu-Ampofo determined to hold on to the chairmanship.
John Dramani Mahama, the NDC's flagbearer in the 2012, 2016 and 2020 elections and the presumed leader of the party again, going in to Election 2024, reportedly has the support of both Asiedu Nketiah and Ofosu-Ampofo.
However, Mahama, according to sources in the NDC top leadership, prefers Ofosu-Ampofo to Asiedu Nketiah for the party's national chairmanship.
Under the NDC constitution, the party is required to elect national executives two years before every general election.
It is therefore expected that the NDC will next hold an national delegates' congress to elect a national executive in November 2022.
Campaign activities for the internal elections will gather momentum from October onwards. All eyes will be on the top job of national chairman.
Source: Asaaseradio