NEWS
All NPP MPs are now aligned on need to sack Ofori-Atta – Majority Leader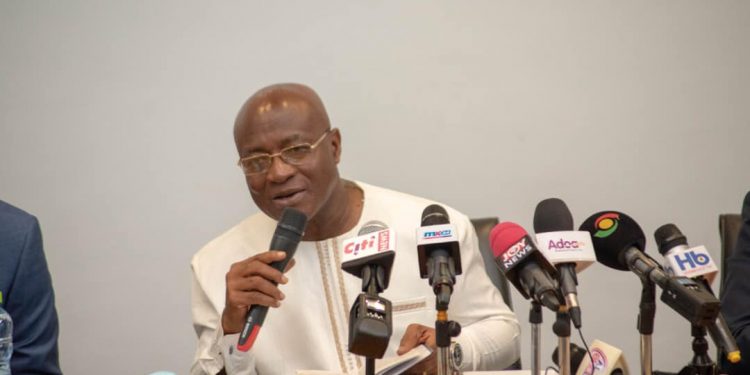 Majority Leader, Osei Kyei-Mensah-Bonsu has declared that the entire Majority Caucus is now in support of the calls for Finance Minister, Ken Ofori-Atta to be sacked.
The call for Mr. Ofori-Atta's dismissal started with 80 NPP MPs threatening to boycott government business if he is not sacked.
The Minority in Parliament subsequently backed the calls by the 80 NPP MPs, and filed a vote of censure accordingly.
The censure motion has been admitted and tabled to be voted upon in the House.
But days before the vote of censure against Ken Ofori Atta, Mr. Kyei-Mensah-Bonsu has disclosed that the entire NPP caucus is in support of the President's cousin being removed from office.
Mr. Osei Kyei-Mensah-Bonsu said this at a news conference on Thursday, November 3, 2022.
"Even though the issue started with the group of 80 plus, the caucus meeting aligned with the position of that group, so it is no longer the cause of the 80 plus MPs. It is the agenda for the entire caucus and we are having some discussions on that," he said.
The Suame MP in an interview on PM Express on Tuesday, November 1 revealed that one of Ghana's wealthy businessmen approached the MPs to influence their decision.
"I'm told on authority that some businessman came here and tried to do something," he told Evans Mensah.
The lawmaker, during the news conference on Thursday noted that his side will probe the incident.
"With particular reference to the attempted bribery, it's come before me. We'll investigate if it is true and if it is true, establish the motive of that person. Sometimes, these things come up.
"You remember the issue of a minister who was nominated to appear before the vetting committee. There was an allegation that he had attempted to bribe some people or influence some people. Eventually, it turned out to be – I will not say falsehood – but an untruth," he said.
Meanwhile, President Akufo-Addo has appealed to the NPP MPs to allow Ken Ofori-Atta to stay in office until the IMF negotiations and the 2023 Budget statement is presented.
He made this appeal in a meeting with the MPs at the Jubilee House shortly after they held a press conference to demand the sacking of Mr. Ofori-Atta.
Source: Myjoyonline.com