POLITICS
Alban Bagbin elected Speaker of Eighth Parliament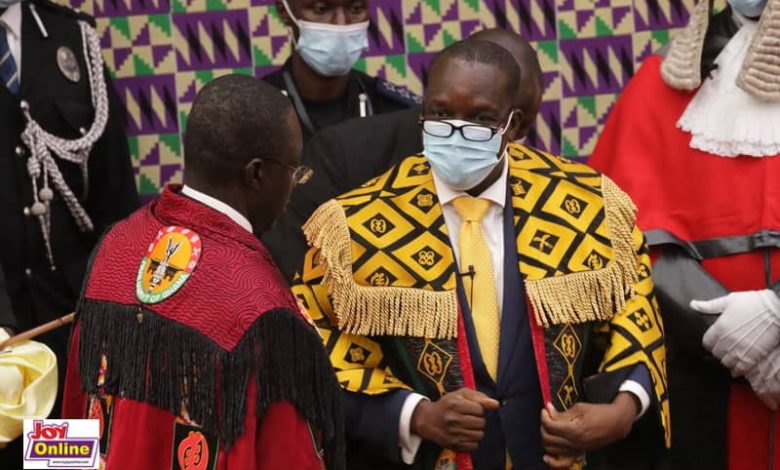 Former MP for Nadowli Kaleo, Alban Sumana Bagbin of the National Democratic Congress (NDC) has been elected Speaker of the 8th Parliament of the Fourth Republic. He won a chaotic, closely contested secret ballot in the Chamber of Parliament on Thursday against former Speaker, Prof Aaron Mike Oquaye. One of the oldest serving MPs polled 138 votes against his predecessors 136 with one legislator failing to vote.
Mr Bagbin makes history for being the first Speaker of Parliament who is not selected by the governing party. The long dragging process lasted over nine hours which delayed the swearing-in of MPs-elect and the selection process of a Speaker for the 8th Parliament.
Eventually, four hours after the secret ballot amidst a lot of jostling, Mr Bagbin was declared winner and was sworn in by the Chief Justice, Kwesi Anin-Yeboah. From the confusion caused by NDC MPs when they occupied the Majority side of Parliament, to arguments about the eligibility of the Assin North MP-elect, and finally, confusion about the mode of voting, the early hours of the 8th Parliament had surely been very eventful.
After a lot of fisticuffs between members of the two major political parties, the secret vote came off but Tema West MP-elect, Carlos Ahenkorah snatched ballots as they were being counted throwing the House into another chaos. Although there were suggestions of a second round of voting due to the incident, after a lot of deliberations with the leadership of the two parties, they agreed that the results is accepted.
Profile of Alban Bagbin
Mr Bagbin has served as an MP since 1992 and was Second Deputy Speaker of the 7th Parliament which was dissolved at midnight on January 6, 2021. He didn't contest in the parliamentary elections in 2020 and his name came up for election as MP when the NDC and NPP won an equal number seats in the polls. Alban Bagbin, a former Health Minister in the Mills administration in 2008, became Majority Leader in Parliament in 2009.
Following a cabinet reshuffle in January 2010, he was appointed Minister for Water Resources, Works and Housing by President Atta Mills. In the Mahama administration, he was the Majority Leader of Parliament after he succeeded Dr Benjamin Kunbuor who was appointed as the Minister of Defense.
Source: Myjoyonline