POLITICS
Akyem Abuakwa holds special thanksgiving service for President Nana Addo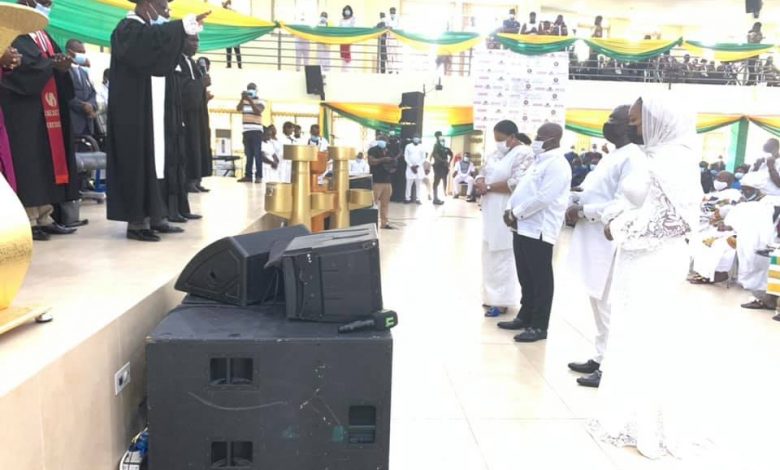 The Akyem Abuakwa State on Friday (January 08, 2021) organised a special thanksgiving service at Kyebi for President Nana Addo Dankwah Akufo-Addo. The service which was organised in collaboration with the Akyem Abuakwa Presbytery of the Presbyterian Church of Ghana, and the local council of churches was attended by the President and his wife Rebecca Akufo-Addo. Also in attendance was Vice President Dr Mahamudu Bawumia and his spouse, Samira Bawumia, family members of the President, chiefs, NPP supporters and a host of former ministers of state.
In a brief address, President Akufo-Addo called on Ghanaians to continue to pray for him and his government to help develop the country and also ask for God's courage and wisdom. He appealed to Ghanaians to continue to have confidence in him, saying that the belief in him meant he was going to work for Ghanaians and would never disappoint them.
Commissioned Project and donation
President Akufo-Addo who had earlier commissioned an auditorium for the Kibi Presbyterian College of Education which has been named after him, thanked all who have supported him in all his endeavours as President. He specifically mentioned Vice President Dr Bawumia, First Lady Rebecca Akufo-Addo, ministers, NPP MPs and the NPP for the continuous trust reposed in him.
He also thanked the Okyenhene Osagyefo Amoatia Ofori Panin for organising the thanksgiving in his honour. President Akufo-Addo who donated GH¢50,000.00 promised to continue working hard for the betterment of Ghanaians as a whole.
Commendation
The Okyenhene Osagyefo Amoatia Ofori Panin who extolled the virtues of the President said "you have done well in the last four years but some people would say you have done nothing. We thank God for giving you to Ghana as a President". According to him it was an undisputable fact that the president has done well for Ghana with his policies, including Planting for Food and Jobs, Free SHS, provision of ambulances among others.
He was hopeful that at the end of the President's second term of office Ghana will be prosperous, adding "let us as a nation support the President since he is selfless and with time, truth, goodness would triumph over evil".
Parliamentary incident
In an exaltation, the Moderator of the General Assembly of the Presbyterian Church of Ghana, Right Reverend Professor Joseph Obiri Yeboah expressed regret over what happened in parliament in the early hours of Thursday during the election of the Speaker of Parliament.
He said the year 2020 was very challenging as a result of the outbreak if the coronavirus (COVID-19) pandemic and praised the leadership of the country for its proactiveness in handling the situation. He commended President Akufo-Addo for always giving thanks to God and prayed that goodness and mercy will follow him and the Jubilee House all the days of his life in 2021 and beyond. He congratulated the President on his re-election to continue his dedicated service to the people of Ghana.
Source: Graphic.com.gh