NEWS
There is no basis to sack Ken Ofori-Atta – Prez Akufo-Addo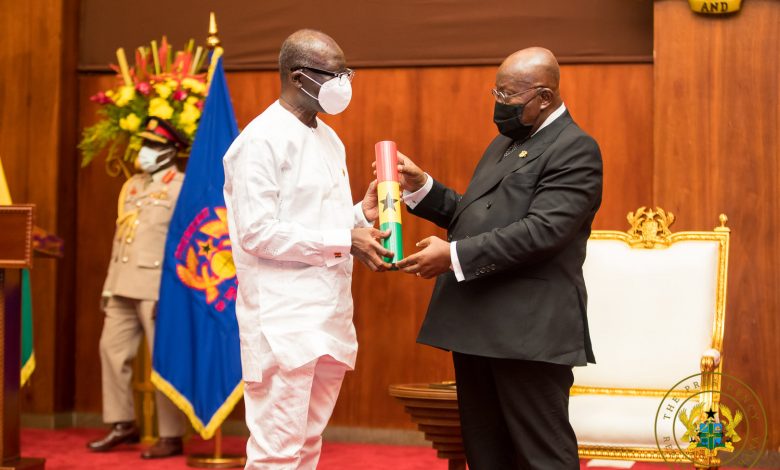 President Nana Addo Dankwa Akufo-Addo says he has no basis to sack Finance Minister, Ken Ofori-Atta.
According to him, the current economic challenges were not the fault of Mr Ofori-Atta who he said performed his duties excellently in his first term as President.
Speaking in an interview on OTEC FM today, the President said he still had confidence in the capabilities of his Finance Minister.
"I came to office in 2017 under a stringent IMF programme… This same man (Ofori-Atta) was able to manage the affairs of our economy in such a way that in my first term, we were one of the fastest-growing economies in the world," the President said.
"An average growth rate of 7 per cent which allowed us to initiate programmes such as Planting for Food and Jobs. So somebody who has been able to do that… The current difficulties are not his fault. So how do I do it (sack him)? What will be the basis? What is the rationale."
The President said if the Finance Minister had not performed well in his first term when he Ghana was the fastest-growing economy with an average growth rathe of 7%, then he would have a reason to sack him.
Critics
There have been growing calls for the Finance Minister to lose his job following the decision of the government to seek economic support from the International Monetary Fund (IMF).
One of Ofori-Atta's critics, Former Chief of Staff in President Kufuor's administration, Kwadwo Mpiani argued that the utterances of the current Finance Minister before the government sought the intervention of the International Monetary Fund makes him unfit for the role.
"Honestly, If I were the Finance Minister (Ken Ofori-Atta) this is not a question of the President dropping me, from my utterances and then what is happening, I would just say Mr President, thank you so much, I think it's time for me to sit back for another person to take over," Mr Mpiani said in an interview with Joy News.
It will be recalled that in February this year, Mr Ofori-Atta said the government had no intention to go to the International Monetary Fund (IMF) for a bailout but will resort to available means within the country to generate revenue.
The u-turn by the government has resulted in critics calling for his resignation over his pronouncements on IMF support.
Source: Graphic online