NEWS
Nation to bid farewell to Theresa Kufuor: State funeral in Accra tomorrow, final funeral rites in Kumasi Saturday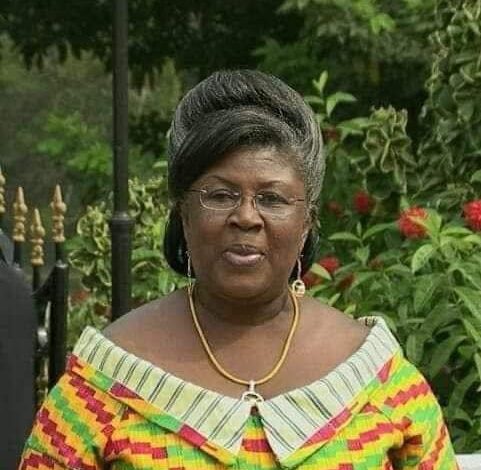 The remains of late former First Lady, Theresa Kufuor, will be buried after a state funeral at the forecourt of the State House tomorrow, November 16, 2023.
According to the family, the burial will be private.
Detailed funeral arrangements released by the family indicated that there will be a requiem mass at the Christ the King Catholic Church, Cantoments, Accra at 6pm today, November 15.
On Thursday, there will will be a state funeral at the Forecourt of the State House to be followed by a private burial.
Final funeral rites will be held at the Heroes Park, Kumasi on Saturday from 12 noon to 6pm.
Thanksgiving service will take place at the St. Peter's Basilica, Kumasi on Sunday at 10am.
Chief mourners
Among the chief mourners listed in the obituary are the Asantehene, His Majesty Otumfuo Osei Tutu II; President Nana Addo Dankwa Akufo-Addo; Vice President Dr Mahamudu Bawumia; former President John Agyekum Kufuor who is the widower; Oheneba Owusu Afriyie IV, Otumfuo Apagyahene, and Dr Kwame Addo Kufuor, a former Minister of Defence.
State funeral
On October 10, 2023, President Akufo-Addo announced that the late former First Lady will receive a state funeral on November 16.
"It is an appreciation of my regard for her and I have the power and I will exercise it. She deserves it, a verified and dignified woman," President Akufo-Addo stated.
Profile
Theresa Kufour was born on October 25, 1935 in Kumasi to Joseph Henry Mensah Snr, a colonial civil servant originally from Elmina, and Rose Mensah (née Maame Abena Tabuaa), from Domase near Sunyani.
Between 1958 and 1961 she trained as a registered general nurse at the Edinburgh Southern Hospitals School of Nursing. She completed her Midwifery (Part I) in Oxford in 1962, followed by Part II at Paddington General Hospital in London.
She also undertook a course in premature baby nursing in 1963 and obtained a certificate in advanced nursing administration from the Royal College of Nursing in 1980.
She got married to J.A. Kufuor at the Brompton Oratory in London in 1962 and the marriage was blessed with three children.
Theresa was First Lady between January 7, 2001 and January 7, 2029 when his husband was President.
She set up a non-governmental organization, the Mother and Child Community Development Foundation (MCCDF), to assist women and children in deprived areas.
Her achievements include the establishment of development centres in underdeveloped parts of Accra such as Kotobabi and Amasaman.
She facilitated the acquisition and installation of a mammogram machine for Sunyani General Hospital and sponsored training in soap-making, dress-making, and shea butter processing in areas such as Kumasi, Koforidua, and the then three regions of the north.
The foundation also built and equipped a bakery in Nsawam.
After her husband left office, Theresa continued her advocacy and support work through the MCCDF.
In 2010, the Vatican bestowed on her the award of Papal Dame of the Order of Saint Gregory the Great.
Theresa Kufuor retired from public life in 2019 due to ill health. She passed away peacefully at the family house in Peduase on October 1, 2023.