BUSINESS NEWS
Bawumia urges AfCFTA secretariat to implement open skies policy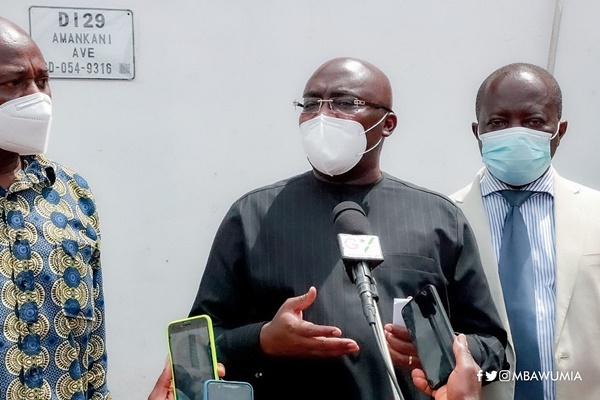 The Vice President, Dr. Mahamudu Bawumia, has challenged the AfCFTA Secretariat to move quickly and implement an open sky policy for member states of the AfCFTA to ease travels and boost trade in Africa. 
The AfCFTA, with its headquarters in Ghana, is aimed at boosting and accelerating intra-African trade and strengthening Africa's trading position on the global market.
Addressing a virtual 1st Africa Trade Roundtable by the University of Professional Studies Law School, Dr. Bawumia said implementing an open sky policy, which is to ease air travel restrictions, is key to realizing the full benefits of the AfCFTA among member states.
Dr. Bawumia stressed that it is important for the AfCFTA to adopt the open air policy to ensure that the AfCFTA charter does not remain on paper without benefiting member states and the people.
"I will like to ask the AfCFTA Secretariat to move quickly; Africans don't want to see this (AfCFTA) as a paper oncec again signed. We want to see implementation. We want the quick wins. We want to see that this agreement is bringing real change on the continent," Dr. Bawumia said.
"And for that matter i am challenging the AfCFTA Secretariat and the Secretary General to move quickly, for example, in the implementation of open skies across the African continent so that we can fly very easily among ourselves."
"In the context of the services protocol, i think it is something that can be actioned quickly and we should move. It is something that requires commitment."
"I don't think it is something that requires more than that and we should move quickly to have open skies across the African continent. At least between the 38 countries that have ratified so far and amongs everybody else who ratifies subsequently."
Support
He further urged member states of the African Union to institute complimentary measures for the successful implementation of AfCFTA.
"No one needs a lecture on the immense benefits of continental free trade in goods and services and the movement of persons on the continent. The ultimate shared benefits are in boosting trade and industry, in job creation and increasing incomes, and in boosting the standards of living of our people. But, the promised benefits of the AfCFTA would not be fully realized unless African Union member states buttress the Agreement's implementation with complementary measures" he said.
Having called on AU member states to show commitment and support the initiative, Dr. Bawumia then raised five key issues he said African states must address to aid the successful implementation of the AfCFTA.
"First, member states who are yet to sign and ratify the Agreement should be encouraged to do so for at least two reasons: to increase the size of the market and the volume of trade under the AfCFTA;  and to fast track the regional integration process to achieve the 'Africa We Want'".
He added, "Second, to ensure the full AfCFTA trading by all State Parties, the technical components of the AfCFTA such as Rules of Origin, Schedules of Concessions for Trade in Goods and Schedules of Specific Commitments for Trade in Services should be finalised."
"Third, we wish to encourage the State Parties which are yet to submit their Tariff Liberalisation Schedules (Market Access Offers) and Schedules of Specific Commitments for Trade in Services to the AfCFTA Secretariat to do so."
"Fourth, is the need for Trade Remedies: To protect against unanticipated trade surges, State Parties should have recourse to trade remedies such as anti-dumping duties, and countervailing duties. Member States need these to ensure that domestic industries can be protected, where necessary. Also needed is an effective monitoring and evaluation mechanism for the implementation of the trade remedies."
"Fifth is Dispute Settlement Mechanism. For State Parties to have full confidence in the implementation of the AfCFTA, a robust dispute settlement mechanism from the Protocol on Rules and Procedures for Settlement of Disputes must be put in place within the shortest possible time."